Published on July 03, 2018
Just as the wayfarer facing the different stages of his journey prefers to stop in those places that he finds most welcoming, in the same way, the customer, who is more or less conscious of following an itinerary (the customer journey), proceeds towards the purchase. So, customers only "stop" when they feel as though they have been well received.
This indicates that today's consumers, who are more demanding than ever before due to their digital maturity, are more inclined to buy from those companies that they have experienced a positive interaction with, conveyed through stimulations that they have received across the various touchpoints.
It is a company's dream to be able to offer an excellent customer experience from the first point of contact with the user. To succeed in reaching this objective, brands must roll their sleeves up and start studying the consumer purchase path. Indeed, in approaching the company, consumers go through different stages: following the initial moments of awareness, evaluation and consideration, they opt for the final purchase only once they have been "hit" in the heart of their interests.
Taking into account that 84% of consumers demonstrate a certain hostility towards traditional advertising, which is considered too invasive, brands increasingly struggle to establish contact with users during their customer journeys. This growing lack of trust with regard to brands that are "aggressive" on an advertising level leads, instead, to companies that adopt a customer centric perspective being favored. They are those, therefore, that put customers first with an almost "human" communication, listening to their problems and trying to solve them by fully satisfying their expectations.
Before making a decision, consumers carry out a lot of research online (76% of them decide to buy after having looked on Google or Amazon). This means that if brands want to influence their users, they must use content that provides information (and not advertising) that is capable of satisfying their desire to find out more (and activate a virtuous cycle of trust). Therefore, quality content marketing is required that knows how to generate trust and credibility in the conversion funnel.
But, what is content marketing? According to the Content Marketing Institute, it is a marketing approach that focuses on the creation and distribution of valuable content, which is relevant and consistent enough to attract and maintain an audience.
The Trustpilot portal splits the customer relationship with brands into seven stages. For each one, it explains which content is most suitable and should be provided to accompany the customer at every stage of the purchase path, until they "make it" as far as the final decision. Let's take a look at them together: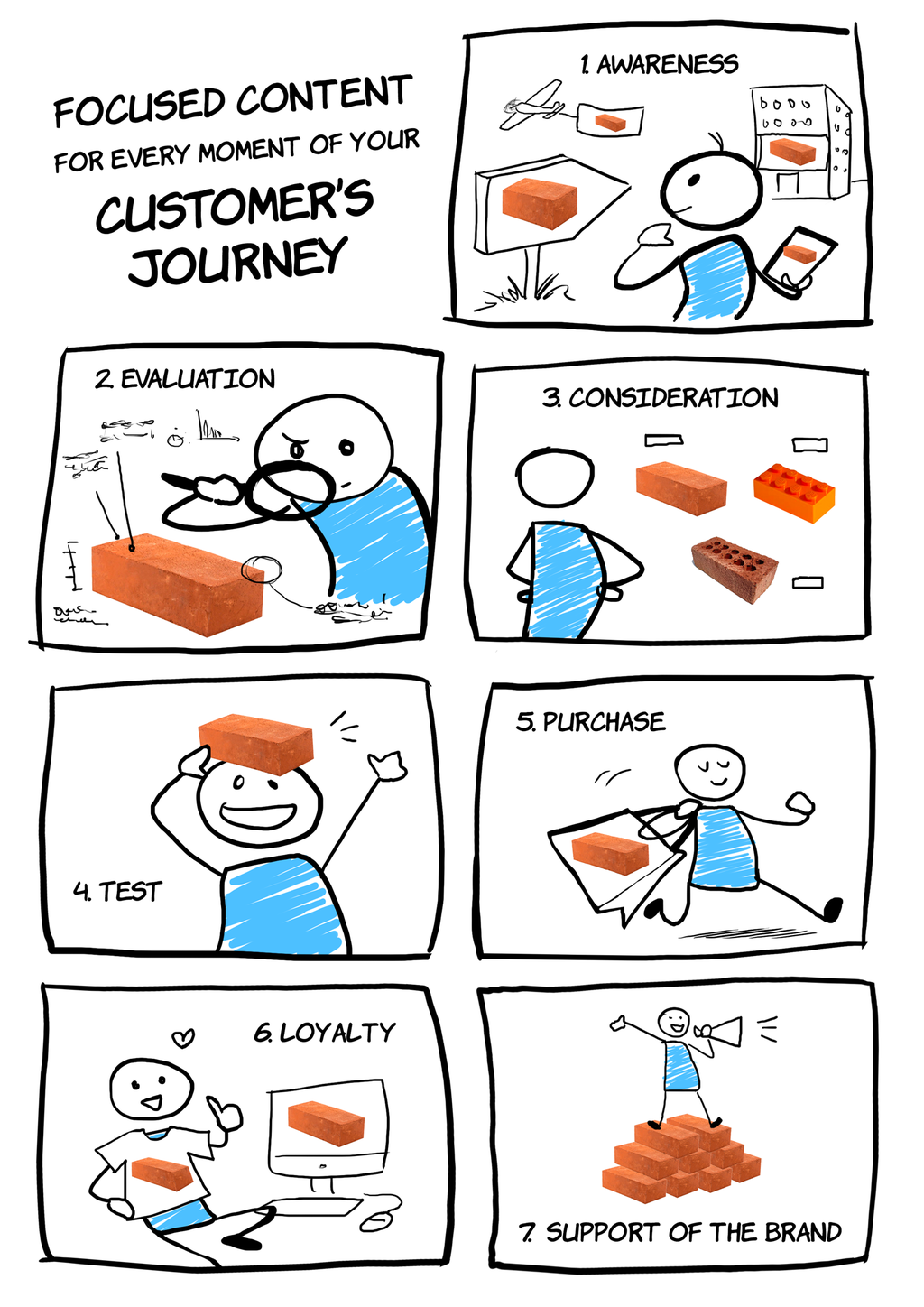 - Awareness
In a world in which multitasking is on the up and points of contact split themselves between online and offline, the key is to offer an omnichannel customer experience that is consistent: a positive experience is defined as such when, jumping from one channel to another, there is no disconnection of any kind that may weaken the "familiarity" with the brand. Usually, at this stage, the first approach with the company website occurs: as much as possible must be done to ensure that the user experience is simplified by a navigation where the keywords are usability and recognizability.
Content such as explanatory videos or texts are recommended on the website. If the first contact is positive, then surely the consumer will be encouraged to proceed towards the purchase.
- Evaluation
At this stage, the first in the conversion funnel, the most important thing is to respond to all the potential user requests for information: in this way, making them feel closer to the services/products offered, the reasons why they should become the brand's customers are demonstrated. The use of short brochures, concise guides, and videos is recommended. The content must be quality content that attracts the attention and answers the potential questions of those who visit the website.
- Consideration
Once the customer's attention has been captured, you need to blow the bellows on the spark of interest that has just been lit, making the company seem different from its competitors. This is only obtained through trust: content to find out more is needed, such as blog posts, infographics and guides. These give the customer who uses them value and, at the same time, provides detailed information on the products/services offered.
- Test
An additional step that is greatly appreciated by consumers is being able to try/experiment with the products/services offered. This is not always possible in a world which is now digital, but content dedicated to this stage, such as whitepapers, guides and detailed videos can also provide information that is able to help customers understand how to make use of a product/service. This includes showing them how to make the most of the value of the brand, which must literally make them "fall in love" with its image and its identity, making it recognizable anywhere.
- Purchase
The customer has decided to purchase but is looking for further reassurance. This is nurtured by content that contains reports from other consumers, examples of their experiences, and third-party endorsements. Fundamental assistance comes from social media and email automation, which drive to action with small reminders, making the transaction even simpler.
- Loyalty
It is at this point that customer services come into play: once a brand has "won over" a consumer, it must also retain them and make them loyal customers. Given that expectations with regard to customer services have increased (they are considered a "thermometer" of how much the company is really interested in them), they need to be "fed" with content such as positive reports or case studies, social media posts, and reviews with content generated by users. The aim is to engage and interest them even more in the brand's offer and the brand itself.
- Brand support and review
The purchasing path does not finish here: if customers have had a customer experience that satisfies them, they may be involved by the brand with emails, reviews, and surveys (perhaps with small incentives such as discounts, etc.) to provide reports on their interaction with the brand.
With the right content transmitted at the "right" stage of the purchasing process, customers will feel more inclined to find out more about the company, about its products/services and about reports from others who have already used it.
There is a way to make your company's content marketing even more effective: that offered by Content Intelligence, or rather, Artificial Intelligence applied to content. It extracts valuable data on user interests from the use they have made of digital assets produced and distributed by the brand. The value of content is measured by its ability to build a relationship with the reference audience.