Published on March 05, 2018
Content Intelligence is an extremely important mean to face marketers' and brands' nightmares. Content chaos and brand fragmentation.

If we want to embrace Content Intelligence approach, anyway, the first step is changing our mindsets to get ready to it.

This article starts giving an overview of the context in which marketers and their companies find themselves in today. Then, we will see how content chaos and brand fragmentation are acting within companies.

Finally, there will be some starting point to consider, if your company wants to tame brand fragmentation.

The two pillars to take in consideration are:
The touch points where the brand and the customer can meet are too many to be effectively controlled.
The content each brand produces is too much and is unmanageable.
You may feel that these topics don't involve you. Your company may still have to start its content production, because it wasn't totally aware of its potential, or because you are just a few people and this task appears too large to be undertaken. You are still in time to start with the correct approach and mindset. In this way, you will avoid the traps that other companies are stuck in from the very beginning, thus making the editorial process faster, easier and more efficient.


Finding customers is increasingly difficult for brands
To understand the first pillar, let me provide you with a funny metaphor to describe the difficulties brands must face in order to accomplish their final goal: finding customers.

Let's imagine shuffling a deck of 52 cards into a random new deck: the new order of the cards we obtain has never been seen before in the history of the world. It's a bizarre fact to believe, isn't it?

The infinitive new orders of the cards you can obtain reflect the number of possibilities a customer has to interact with a company. This is an enormous number. Moreover, every single customer journey is unique, exactly as every new deck of the card.

This is why we can't predict any buyer journeys, and waiting for our customer in one of our touch points could mean missing thousands of other opportunities to meet them.
We are not saying that we will never find customers along their journey, but nowadays, attracting them and then following them is easier. In fact, there has been a radical shift concerning the relationships between brands and customers. From the traditional advertising, that pushed content or messages toward customers, we have arrived at a pull-based marketing, where we work to attract people. The reason is that customers themselves leave their own purchase journey and go where they find the most interesting content and compelling offers.


King Content is threatened by content chaos
Since this shift, the mantra has been to not waste time trying to guess where potential customers are, but to invest time and resources to make customers come to the brand. Brands have had to invest in content.

Correct. This is essential for every brand that wants to succeed, also because customers are increasingly using software to avoid advertising and to look, instead, for relevant, maybe agnostic, information.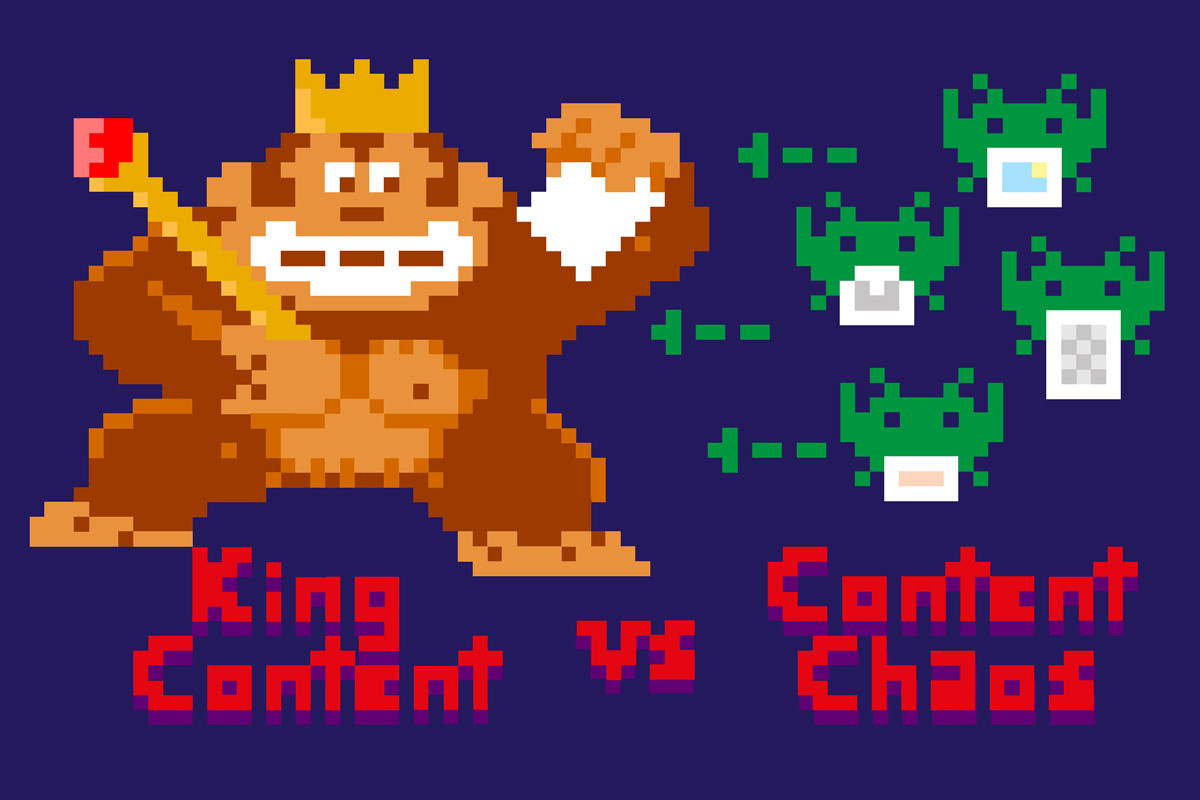 And here we arrive at the second pillar we want to insist on. In fact, in this context, companies have been creating a lot of assets. But they soon lost any control that they had over them, and that was the moment in which the so-called "content chaos" spread.

The situation that sees the volume of content growing in a disorganized and unsystematic way is content chaos.
According to data analyzed by Forrester, during 2016, 8% to 10% of marketing programs' budgets was spent on content. That is to say, about 10 billion euros were spent on content in 2016 in the US alone. The analysts, moreover, have reason to believe that content volume and related budgets will grow.

But brands still don't have the mindset and the appropriate tools to manage all this content.


How content chaos affects the customer experience
Content chaos doesn't just affect the brand's organization, but also the users' experience. Users are the ones who notice and feel the negative impacts resulting from this situation.

On the one hand, marketers are less productive, since they have to face amounts of disorganized assets. The cause is that companies
are not managing to reuse old content
don't leverage and uniform their tone of voice
don't tag content to make it possible to always distinguish each piece of content from the others.
On the other hand, customers are confused and are willing to abandon brands that offer bad customer experiences.

The case of a major US insurance company is a clear example of the dramatic effects of content chaos on customer experiences. The messages the company delivered to customers were very different and they seemed to be coming from different voices. In fact, there were two thousand people who had publishing rights to the website; on top of this, each team (the email team, the digital team, the social team, etc.) produced content on its own and in its own way.
The goal of every brand should be to offer an optimal customer experience; instead, the fragmentation of the brand identity into many different voices causes schizophrenic experiences that damage the relationship brands have with their customers.

If brands can't have a unique identity and offer content that is coherent with it, in the future, people will skip and avoid branded content too, because it will be considered annoying and bothering, just as ads are. Then, attracting customers will be almost impossible.


We need a change in our mindset and in company culture
The solution starts from changing the cultural approach brands have to this whole situation.

If the company itself is not ready, there are no tools or great managers that can succeed in taking your company out of content chaos and reconciling it with customers. I am not just referring to the board, but most of all, to the people who work there.

So, brands have to reorganize themselves: changing philosophies and focusing on making the customer experience as enjoyable as possible. In a sentence, brands should become customer obsessed. That means prioritizing things that are in the best interests of the customer, even if they aren't in the best interests of the brand.

In this way, brands will be able to engage with people, to make them open their emails or come to their digital and non-digital touch points, and to make them choose their businesses and not the competition.

In any case, the actual situation is that three out of four brands are not aligning customer experience and brand experience: that is a significant problem. It means that companies still think in a brand-centric way and aren't that interested in what customers expect. The worst fact is that by damaging their relationships with customers, brands are damaging themselves; but it seems they don't realize it.

What brands really need is not just a change in technology, but a cultural shift.

To tame brand fragmentation and gain customers' confidence, every brand should rethink four core aspects, before changing their technology: let's see what they are.
1) Brands need to go from being customer-aware to being customer-led
Brands usually
divide the audience into segments and deliver differentiated offers to those segments;
choose which content and channels to use, based upon where they have their strength in the team.
But today this approach is not enough anymore. It is less about segments and more about people. Brands have to listen to their customers and take decisions based on what each customer wants for each experience, using the channels customers use.
2) Brands need to go from being data-rich to being insight-drive
You need data, but alone they're not useful.

It is therefore important to understand what those data mean for your category and your customers, and what the consequences are of responding in one way or another.
3) Brands need to make a shift from perfect to fast
The quarterly and perfect ad campaign makes way for the fast and sometimes imperfect experience that captures the essence of a moment and adjusts it to your brand. Users are moving quickly through channels, consuming a lot of content and needing new material: stop trying to make your content perfect, since you'll waste time and offer your users something competitors have already shown them.
4) Brands need to go from being siloed to being connected
The different teams should work on cross-purposes and be aligned in working for the customers' best interests. Bring your teams together physically and plan your cross-channel communication.


The Content Intelligence approach
Changing mindset is a process that requires time: start today in accordance with those suggestions and take the necessary time until you will be ready to start out on the concrete changing of technology and internal processes of the company.

With Content Intelligence your content can become a competitive advantage for your brand.

Are you curious to discover what Content Intelligence can do? Start from this article!