Walter Caccia
Head of Innovation and Commerce @Kantar
Published on December 09, 2019
The highest growth rates in e-commerce were found in consumer goods, where 96% of the growth occurred outside hypermarkets and supermarkets. Although offline will continue to account for the largest share of sales in the future, we know that e-commerce is the main driver of growth for FMCG companies.
So, what are the most relevant purchasing behaviors in e-commerce? They were detected by Kantar and presented at Netcomm Focus Food (here the presentation): let's go deeper with Walter Caccia, Head of Innovation and Commerce of Kantar.
Q: "Energy"" was marked as a determining factor for a successful e-commerce (source: eCommerce ON - Kantar - 2019). What do you mean by that, and what trend can be observed on the world stage?

Source: eCommerce ON – Kantar - 2019
A: The "Energy" factor refers to the effort a customer has to make to buy online. For many years, it was thought that the only driver for e-commerce was cost effectiveness (Money), but over time it has become increasingly clear that the fluidity of the experience is just as important.
We need to keep in mind that people always try to find comfortable solutions in everyday life, so the same happens when it comes to online shopping. Just think that 70% of Amazon customers never click beyond the first results page when searching.
Q: The proliferation of touchpoints is leading to a high rate of cart abandonment. Can you explain in detail the causes for this?

A: The number of touchpoints has an important impact on Energy, and in e-commerce the pre-shop touchpoints are more than in offline purchase (3.5 vs 6.4 in Grocery, and 10 vs 13.6 in the other categories). Together with the complexity of the categories, the increasing number of touchpoints contributes to increase the frustration of a customer, who feels confused and need more time to evaluate the purchase. In the end, especially for non-indispensable things, they will likely renounce the purchase.
Q: What is the influence of online and offline touchpoints on purchasing decisions? In the case of online consumer goods, what aspects lead to increased conversion rates?
A: In Italy, the influence of digital touchpoints is still limited for those people who buy offline (we can estimate about 20%), but it is exactly the opposite for online buyers (digital touchpoints weighs for about 80%).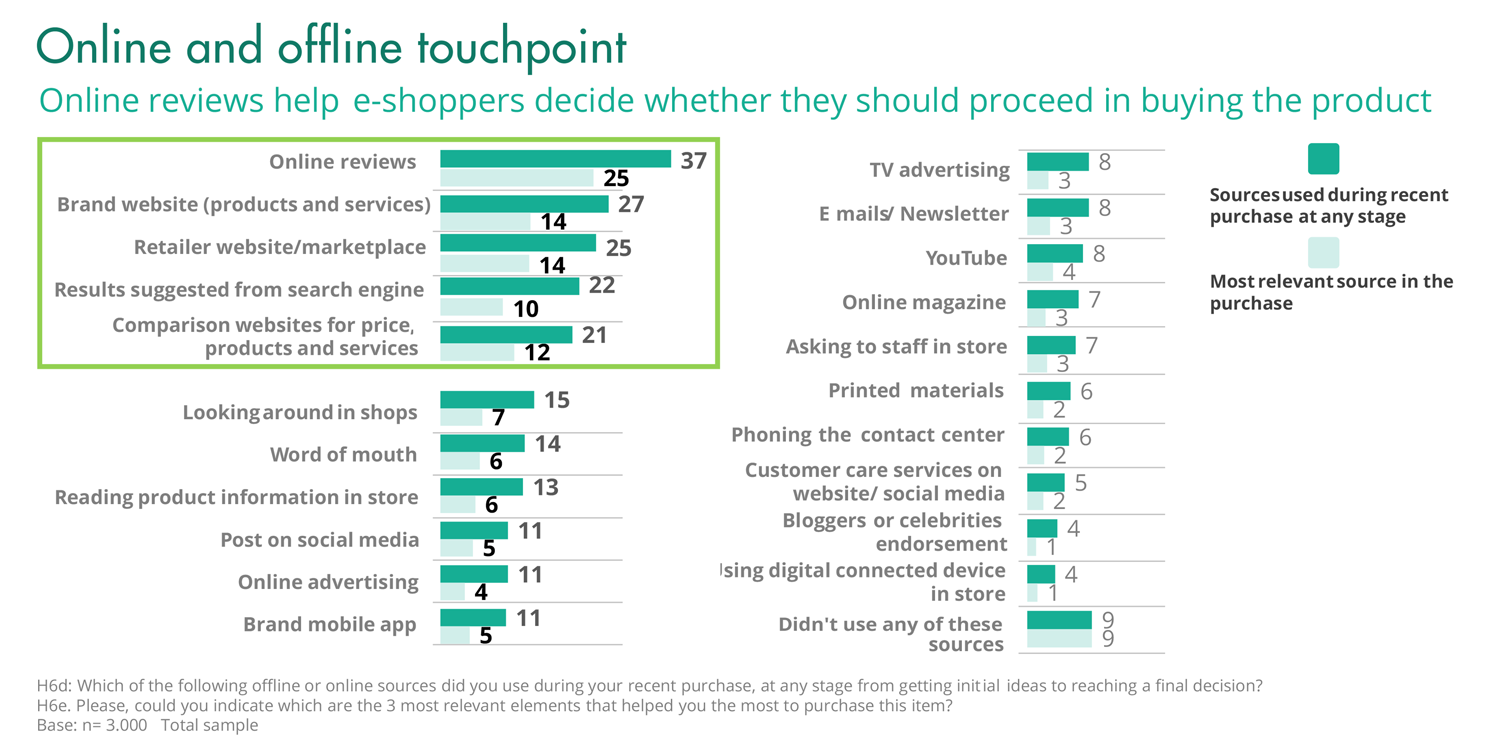 Source: a research of Netcomm in collaboration with Kantar (May 2019)
In general, little trust in given to the information found on e-commerce sites, with the exception of reviews from users, which are considered trustworthy and have become the main digital touchpoint influencing the choices of online shoppers.