The Editorial Staff
Content Intelligence Network
Published on March 11, 2019
Do you remember Louis XIV, the Sun King?
He created a sumptuous palace in Versailles, a "golden" prison for nobles who, distracted by court life, were somehow left orphaned of their land possessions due to distance, and were therefore more easily governed.
You should learn from this lesson. Companies must adopt solutions that guarantee them absolute control, in order to manage the enormous amount of content produced daily.
If you invest in the production of a good, in this case content, of course you want to get the maximum value out of it. When it is stored in data silos belonging to different departments, it's really difficult to retrieve and reuse it consistently for the creation of omni-channel experiences.
"Content is King", but as a true King, Louis XIV said, there is no power without control. And this can only be achieved with Artificial Intelligence, specifically with the Intelligent DAM technology, which allows you to centralize all content on a single platform.
Once content is uploaded to the DAM, Machine Learning algorithms scan this "magma" of materials, understand it, and give you a list of words (tags) that indicate their editorial characteristics (topics, formats, etc.).
So rationally organized, without duplication or redundancies, content is available for future automatic recognition and use.
What are the benefits?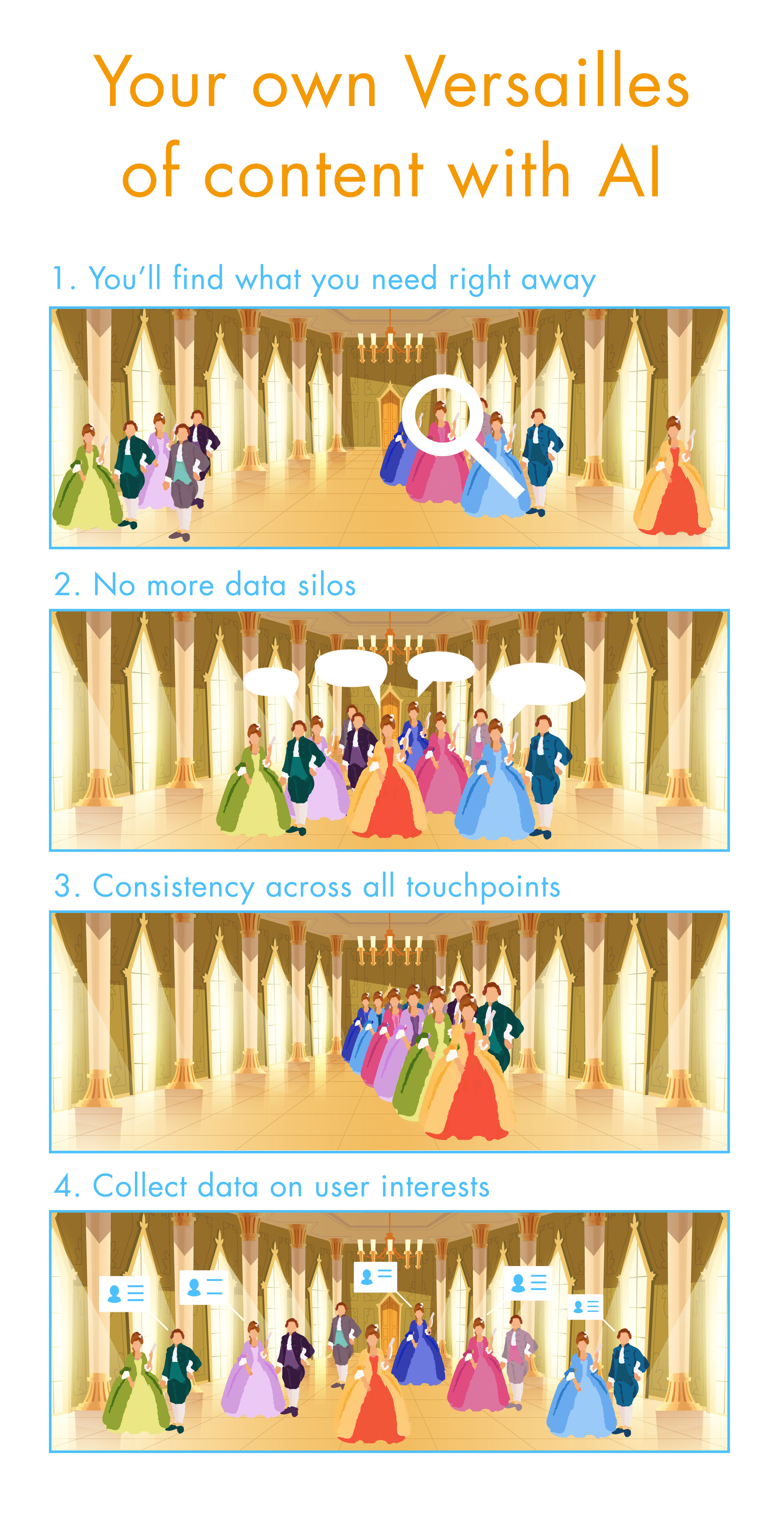 You'll find what you need right away
A well-structured, central repository makes it easy for internal teams and external partners find and use the content they need.
If your DAM has an intelligent search engine, it will "dig" not only in the title or in the description of your assets, but also within the documents and across their tags. In addition, it will also work on the brand's owned front-end channels, if you also decide to include HTML pages. This proves very useful for your end users as well.
In addition to creating greater interaction between departments, the demolition of data silos will streamline all content management activities, through shared workflows where access and modification rights can be assigned.
Consistency across all touchpoints
A single hub where content is classified and stored in a single version saves you time and work: thanks to features such as smart cropping or adaptive streaming, the system can automatically adapt content to different channels, without having to edit it manually and having different versions and sizes of it. This allows you to create consistent, omni-channel experiences.
The AI classification becomes the backbone of the analytical work that will associate content (and its topics) to the user who enjoyed it.
Thanks to metadata you can extract information on user interests and thus obtain a complete overview of the needs of potential customers. In this way, you can improve and customize more and more the customer experience you're offering, with the system selecting on its own the most appropriate piece of content for every visitor.
Let's go back for a moment to the Palace of Versailles. As you might remember, one of its wonders is the famous Gallery of Mirrors: with Content Intelligence it's a bit like it, any user who looks in the mirror (the brand) will see their own image.
In fact, each person is different from the every other, has different expectations and desires, so in order to convey an excellent customer experience for them, brands must work on customization.
The cover picture shows Villa Contarini in Piazzola sul Brenta (PD, Italy) where on April 19th, 2018 was held the event "The Connected Experience Imperative", organized by Content Intelligence Network together with THRON, KPMG and Forrester.