Published on April 24, 2020
What are the differences between DAM, PIM and MRM? Why is each of them crucial for the company? Their features are combined in a single piece software, THRON. Discover its advantages.
In a recent post supporting the Martech Supergraphic - the annual report mapping the best Martech (Marketing + Technology) solutions in the world - Scott Brinker identified "platform ecosystems" as the foundation for a second golden age of Martech.

Using a stable platform as the cornerstone of a company stack, in addition to a series of specialized applications that work in continuity with this "core" platform, becomes a very powerful combination. Integration costs are reduced to zero, as are the number of solutions with overlapping features.

In the "DAM, PIM & MRM" category, we find the Content Platform THRON. But what do these acronyms mean in the first place? And how is a Content Platform related to them?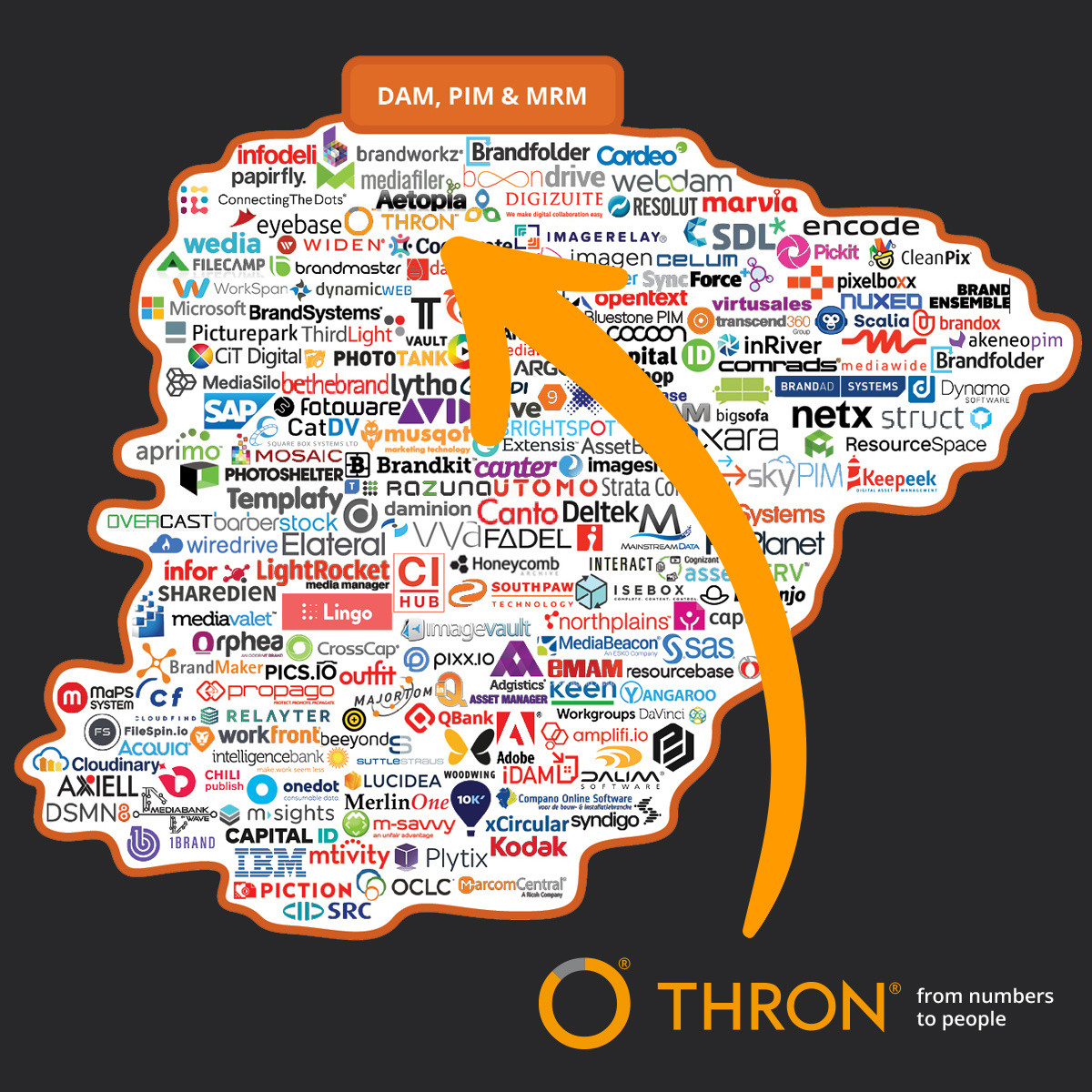 DAM, PIM, MRM: what are they?

These names can be confusing. In reality, while working in different ways, all this software solutions contribute to the same need: to optimize go-to-market strategies. They do so by helping us reach new levels of efficiency, scalability and brand protection.

Let's look at them one by one:
DAM (Digital Asset Management)
Corporate content - we are talking about images, documents, videos, drawings, graphs, audio, etc. - have no value if they are not properly indexed and accessible, meaning quickly retrievable when they are needed, and in their most updated version.
For this purpose, the DAM (Digital Asset Management) was born. Software that centralizes in a single hub the resources that were once scattered across different archives, individual desktops and file sharing systems. There, they can be enriched with information that allows their retrieval. In the most advanced DAMs, there's an additional support for editors in their laborious classification process: Artificial Intelligence algorithms extracting concepts from content, even if these are general and not strictly related to the business environment.
In these organized file repositories, workflows for the approval and review of resources can also be set up. The content lifecycle goes from ideation to publication, as such software can often be integrated with website applications such as CMS and marketing automation systems. Through controlled access, different levels of intervention and sharing can be established for specific users or teams.

The main benefit, in addition to research and more efficient workflows, is a stronger brand protection. You will no longer risk using obsolete or expired resources, because once you share or publish a piece of content, it will be automatically updated with any replacement of the original file, which is stored in the system.
PIM (Product Information Management)

The PIM (Product Information Management) is a tool created with the aim of collecting and unifying product information, centralizing it from various tools (ERP, databases, file server, Excel files, etc.). Product data, in fact, can be of various nature: marketing data (patents, descriptions for e-commerce), technical data (features, components, manuals) and logistics information (size, packaging, shipping modes).

In this way, they are available in a single archive to the various stakeholders and can be updated in real time, improving time-to-market. Sales channels (markets, distributors, retailers and wholesalers) and the teams in charge of creating product experiences have access to complete and accurate information. From this tool you can set up workflows - made of steps, for example, translation - and it is easier to share catalogs with partners and external channels, selecting which products to include.

With a PIM, you can optimize product management because you'll have a single source of truth for product information. Following the principles of omnicanality, from it you can feed not only e-commerce, but also all other distribution channels such as third-party marketplaces, social networks, apps, intranet, etc.
MRM (Marketing Resource Management)
MRM stands for Marketing Resource Management, an application for those companies that, having a large volume of projects and marketing campaigns, need an complete picture with which to plan workflows, allocate resources to the teams involved, monitor their progress and measure ROI.
Unlike DAMs, they do not centralize the entire library of digital resources, but only those related to a project. In this custom workflow defined by intervention rights established upstream, teams can make collaborative changes in real time, obtain approvals, share and archive files. The collaboration between the various actors (agencies, project managers, dealers, etc.) is facilitated, because each of them can focus on the resources that need their action, so the finalized project can be launched faster.
Three in one: THRON
All this brings us to THRON. This platform merges together the functionalities and advantages of the three tools we just described. It is a single, centralized repository of content and products, to which the company can connect the entire supply chain, from production to marketing, also including the sales network and distributors.

By using this platform, a company can achieve a consistent technological simplification. Let's look at the main points:
All content is classified in a single hub and is searchable by product data as well (SKU, characteristics, attributes).
Classification can be automated with THRON's Artificial Intelligence, which can identify not only the subjects and topics of each piece of content, but also logos, products, dominant color and other information. To do this, it relies on the brand's proprietary dictionary.
Product information can be imported from external systems, and it undergoes data quality processes, i.e. the software automatically identifies errors and inconsistencies in the data. The information can also be modeled on the company's specific product categories.
It is possible to set up and automate approval workflows for content and product sheets. Different interfaces can be customized according to the user's role, with optimized navigation from mobile. In this way, collaboration is improved not only in internal teams, but with any collaborators, from agencies to suppliers, retailers, and throughout the entire supply chain.
THRON and the front end channels, including e-commerce and marketplaces, are synchronized, so publication can be automated. To update or withdraw content, simply update the original file stored in the platform once. This ensures maximum consistency of messages and a strong brand identity.
In addition, relying on THRON for the publication of content and product sheets means relying on its distribution network (CDN) which accelerates the delivery of multimedia content. And its scalable cloud architecture enables your sites to manage any traffic peaks.

Last but not least... Using THRON makes it possible to obtain data on the way user consume your content, thanks to Content Intelligence. It associates the classification information with the users who have visited the content, obtaining insight to use in a one-to-one communication.

According to Brinker, being able to measure performance directly within the platform is a fundamental advantage. The ability to collect consistent data on content published on multiple channels allows a company to rapidly calculate the content ROI directly in THRON, and then decide how to refine its digital strategy.