The Editorial Staff
Content Intelligence Network
Published on September 10, 2019
In e-commerce there are some "micro areas" where to intervene, and with data-driven optimization practices, you can improve your business results.
With specific techniques, interpreting data becomes easier and more immediate, and you will know in detail the progress of your e-commerce as well as new lines of action to maximize effectiveness in different circumstances. Roberto Pala, CEO of Queryo, indicated the following practices during the Web Marketing Festival:
Analysis of the purchases in the last 1-3-5 years
An important metric to consider is the Customer Lifetime Value (LFV): it is advisable, especially in certain industries, to extend the analysis to a wider period, going beyond the quarter (1-3-5 years). In some markets, in fact, a customer may buy only once a year and at a specific time, so recurring purchases could occur for:
Festivities
Events
Periodic maintenance
Updates
Anniversaries like birthdays etc.
This data can give you cues to better set up your campaigns.
Product feed optimization for Google AdWords
Product feeds used for Google Merchant are usually in XML or CSV format. It takes two steps:
- Exporting the CSV format from the "Dimensions" tab in AdWords' "Shopping" campaigns with "Shopping view by Item/Element ID".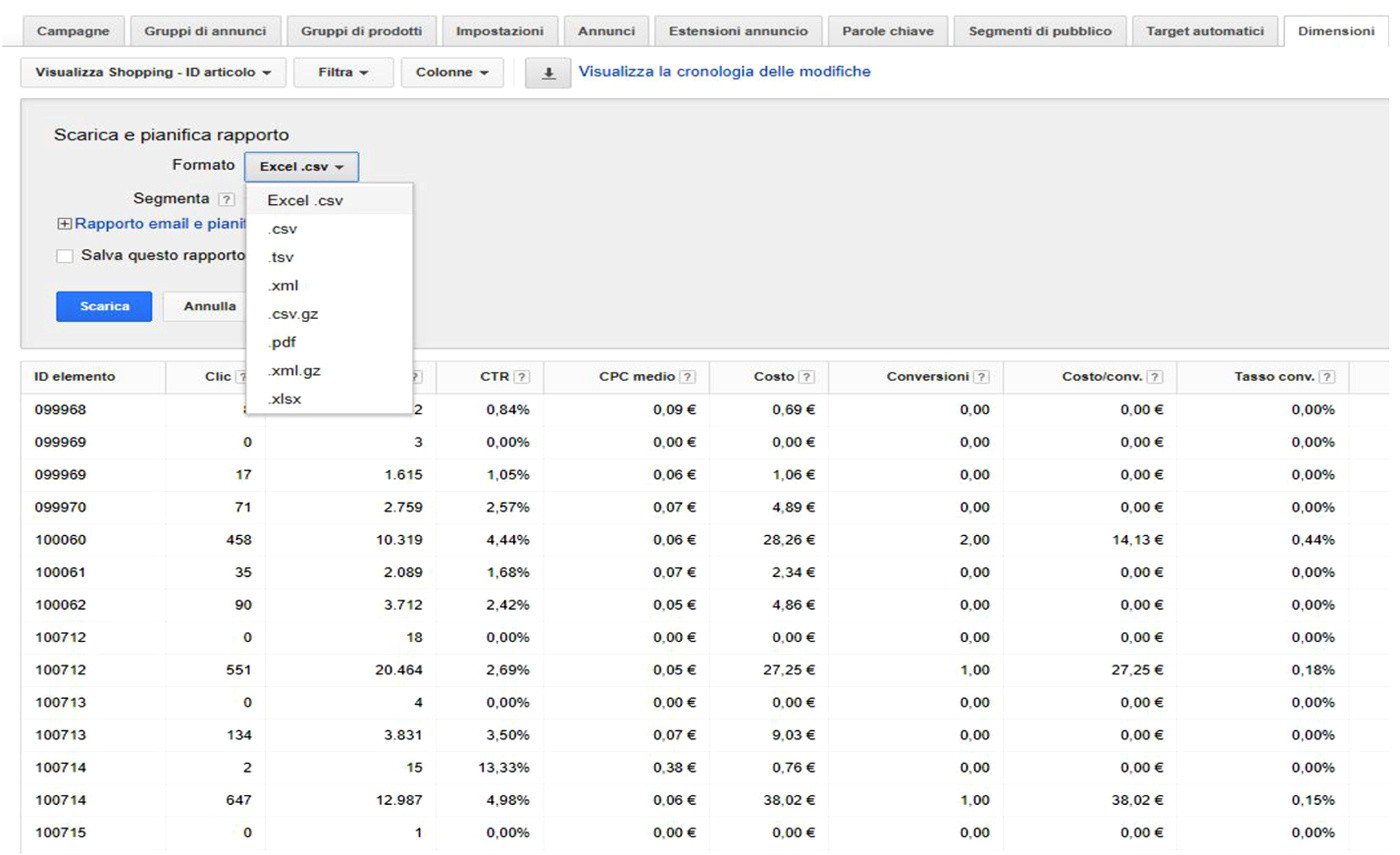 - CSV export from Analytics or Customer Backoffice, to retrieve data about the products that are not converting/selling.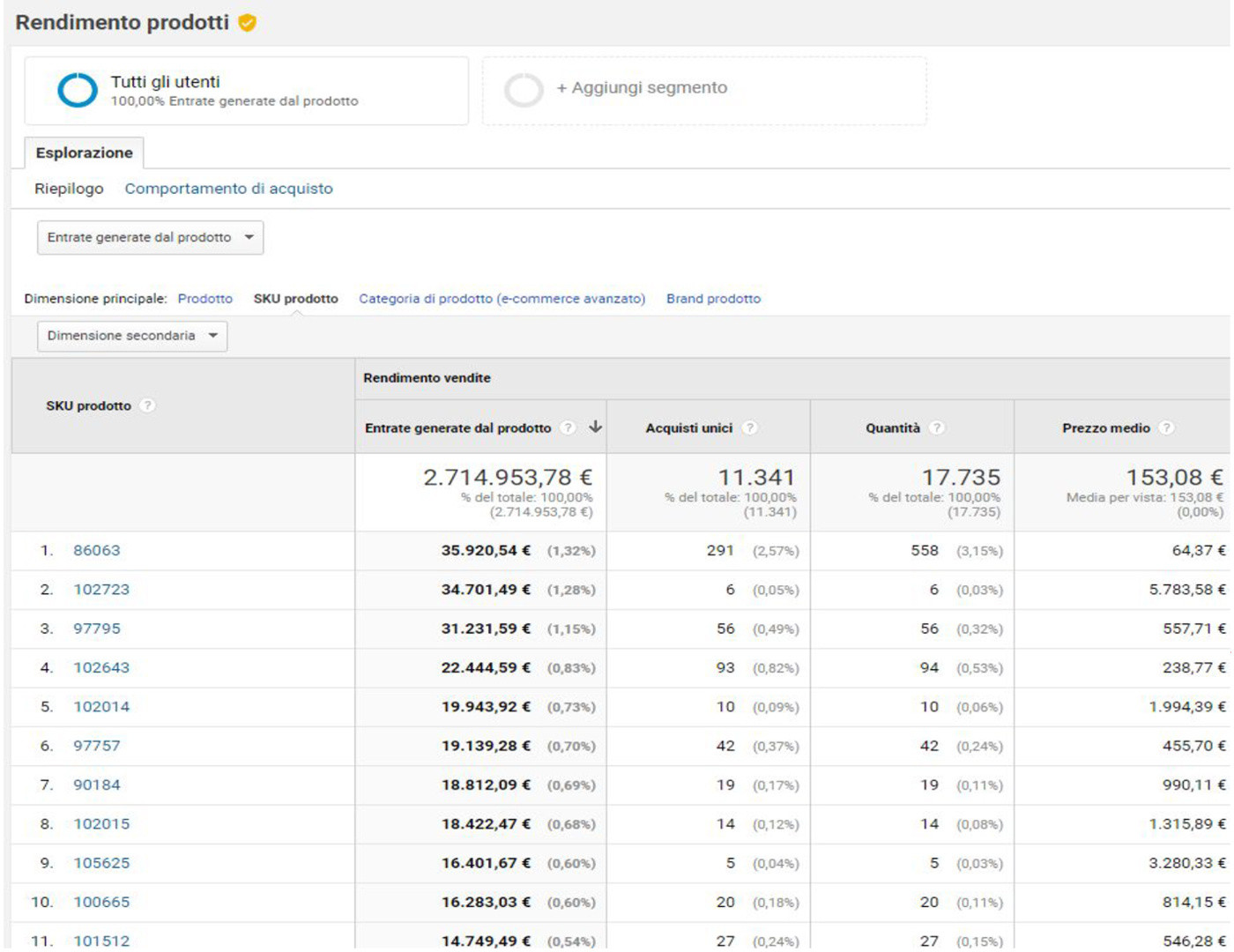 You may now be interested in knowing if a product can be sold on a global level in a given period: by putting together the exported data, and by matching it through product ID/SKUs, you'll get a summary telling you which products have generated costs rather than conversions.
In this way, you'll obtain your CPC (cost per click) and the % of accumulated cost (i.e. the increased savings in unproductive investment). Taking Pala's example, the first line of the table shows that 171.24 euros, the cost for the period under review, correspond to 2.28% of the budget used for the campaign.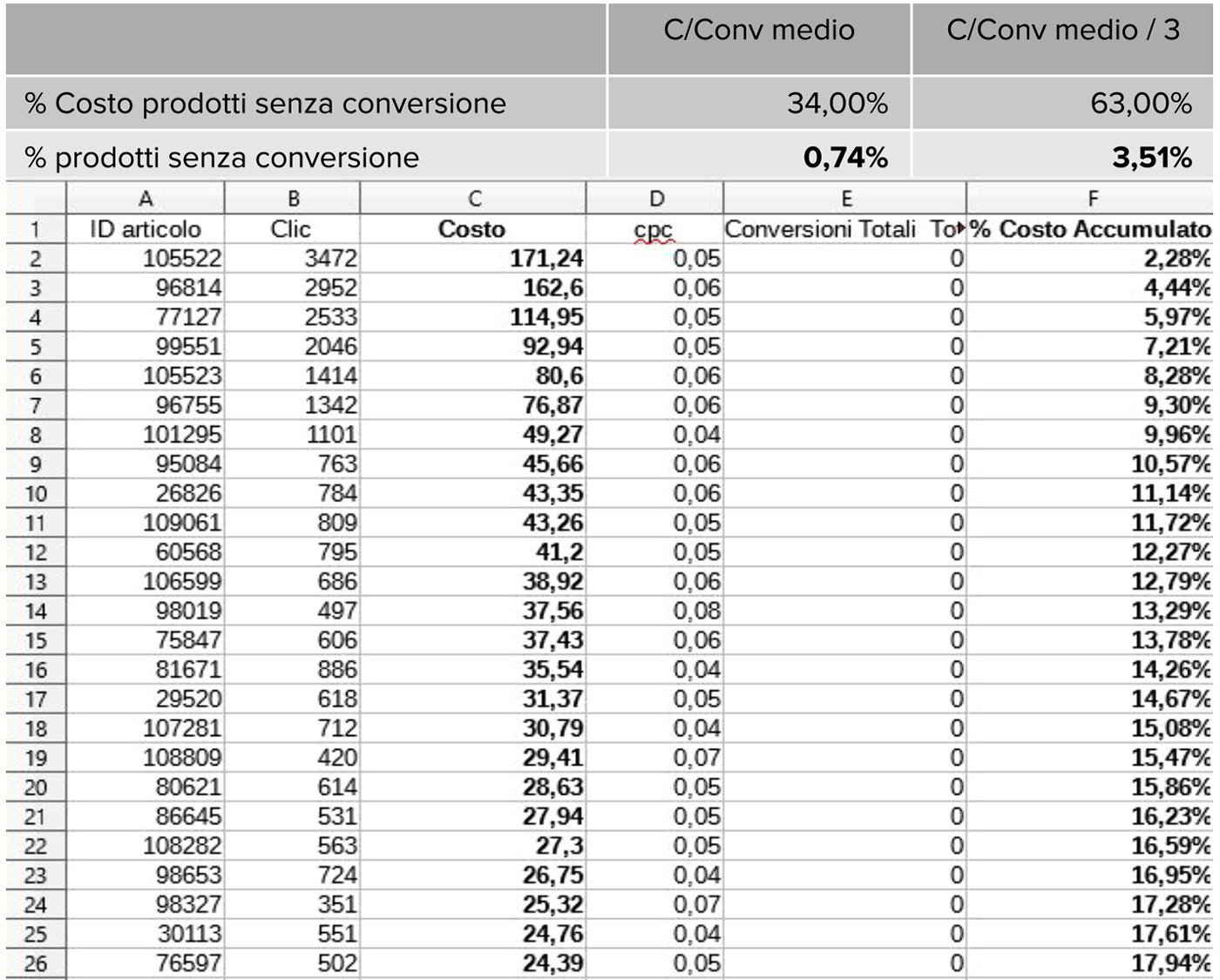 So now if you have to cut the CPC, you'll know where to intervene: it makes sense to cut on those products that have not led to any conversion in the previous twelve months.
If you want to go even further, you can also get quality data on these zero-conversions: by cross-referencing with navigation performance data (e.g. average time on page), you'll get a comprehensive overall picture to help you understand where to cut and save budget.
The effectiveness of AdW campaigns can be maximized with tools such as Adalysis, Otmyzr, Opteo, Whoop, AdScale that allow you to make suggestions on ads, Keywords, Negative Keywords, Landing, Bid, Ad extension, Dashboard Enhanced etc.
Once you have cut on AdW feeds, start from this to generate the new feed for FB Ads. Remember to add the KPIs for the individual FB channel (e.g. prospecting) and to filter according to the attribution model chosen (in this case First Touch).
Starting from the feed optimized for AdW you have to structure it in order to avoid content duplication. What does this mean? If you copy the feed as it is in comparators, the property will be passed to the comparator itself.
The advice is to structure it according to a logic of price and competitiveness:
If I'm the only one offering this product, I'll rise the price and insert it in the feed
If I have a competitive price, I'll put it in the feed
If I have a high price, I won't include it in the feed to avoid loss of money and brand awareness.
In order to become more and more incisive, you can also use AdWords Scripts: in case of customers with more than 170 thousand keywords, manual management seem extremely difficult. That's why to use automation: the scripts will automatically perform actions based on the data analyzed. Here are two examples:
- stock shortage
This script monitors product availability and sets up advertising campaigns accordingly. Out-of-stock must not happen, because a disappointed consumer could look for alternatives and abandon the brand.
- bidding (offer) based on weather data
This script is widely used in the tourism industry, and it adjusts on weather data following custom rules. For example, you can make it show ads of houses for sale in Sardinia only when the sun is shining.
A listing optimized according to the sales behavior of a product is recommended. Leaving aside the classic orders by increasing price, decreasing price and newest products, with Engaged E-commerce by Google Analytics you can compose lists by:
- CTR by position in the listings
- salability of the product
- discount applied to the single product
- stock shortage
- novelty
- close to outlet
Take the example of the newest products: no one will buy them if they are not moved up within the listing. We must rethink the logic of product feeds by adapting it to the catalog as a whole. A product that won't sell is a problem, because the sessions showing it entail a cost.
Remarketing Inbound Project
If a user has already visited your website, thanks to Remarketing (a technology based on cookies) they can be "followed" throughout the web and being offered online ads matching their interests.
The images of the article were taken from the presentation of the speech by Roberto Pala available on the website of the Web Marketing Festival.