What is the role of digital in the journey and purchase of Health&Pharma buyers? Netcomm gives us data on the trends of the industry.
Digital is redesigning the entire health ecosystem, and Health&Pharma e-commerce is one of the most interesting trends.
Netcomm has carried out research to investigate today's online purchases of pharmaceutic products and interesting evidence has emerged:
22,3 million Italians are online buyers and 65.8% of them have purchased a Health&Pharma product at least once in the last year. Within them, we find a significant part (26.8%) who bought on a quarterly basis.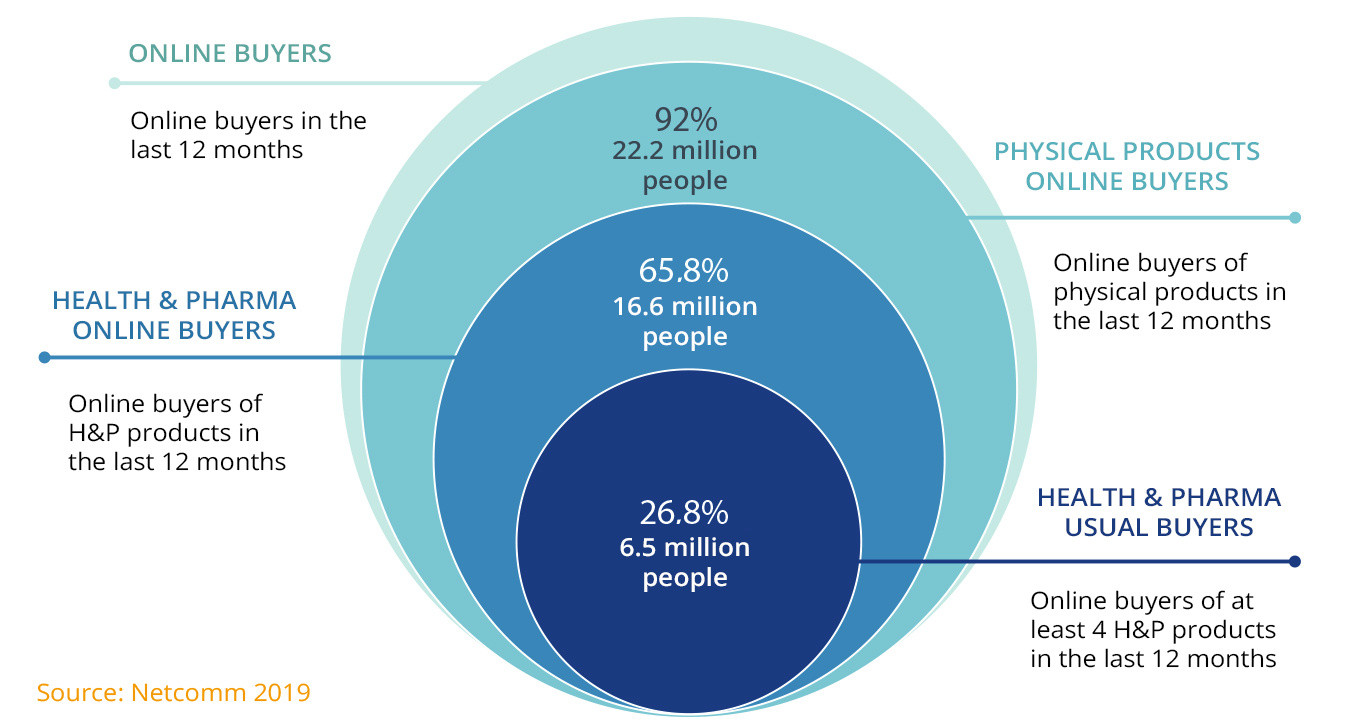 In first place for frequency of purchase come vitamins, supplements and enhancers (14.7% of e-shoppers have purchased them more than 3 times in the last year). In second place are non-prescription drugs, and natural products come third.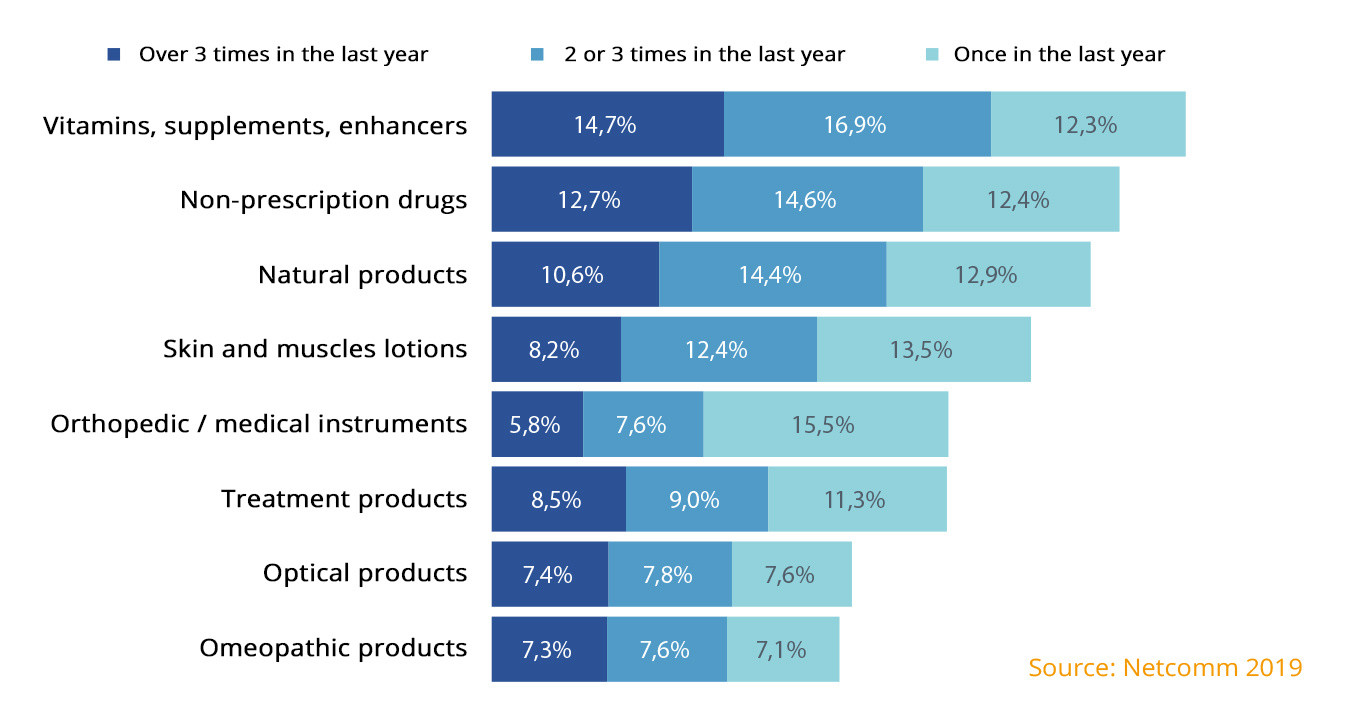 From these first figure we can observe that in the Health&Pharma industry, despite the usual online buyers being less than 27% of the adult population, they are still a greater number than sporadic buyers.
These are encouraging metrics, given that the industry has just recently turned to digital. Already 50% of buyers buy once a year, and 12% buy 3 or more times a year.
The research also shows that a typical Health&Pharma buyer is older and more educated than the average e-shopper, and they mostly live in small towns (so they choose online due to access reasons).
What are the main touchpoints?

The analysis of a Health&Pharma customer journey, compared to those of other industries, has some peculiarities. The most common touchpoint is search engine (14.6%) followed by reviews and evaluations of other customers (10.3%) and the advice of a health professional (9.4%).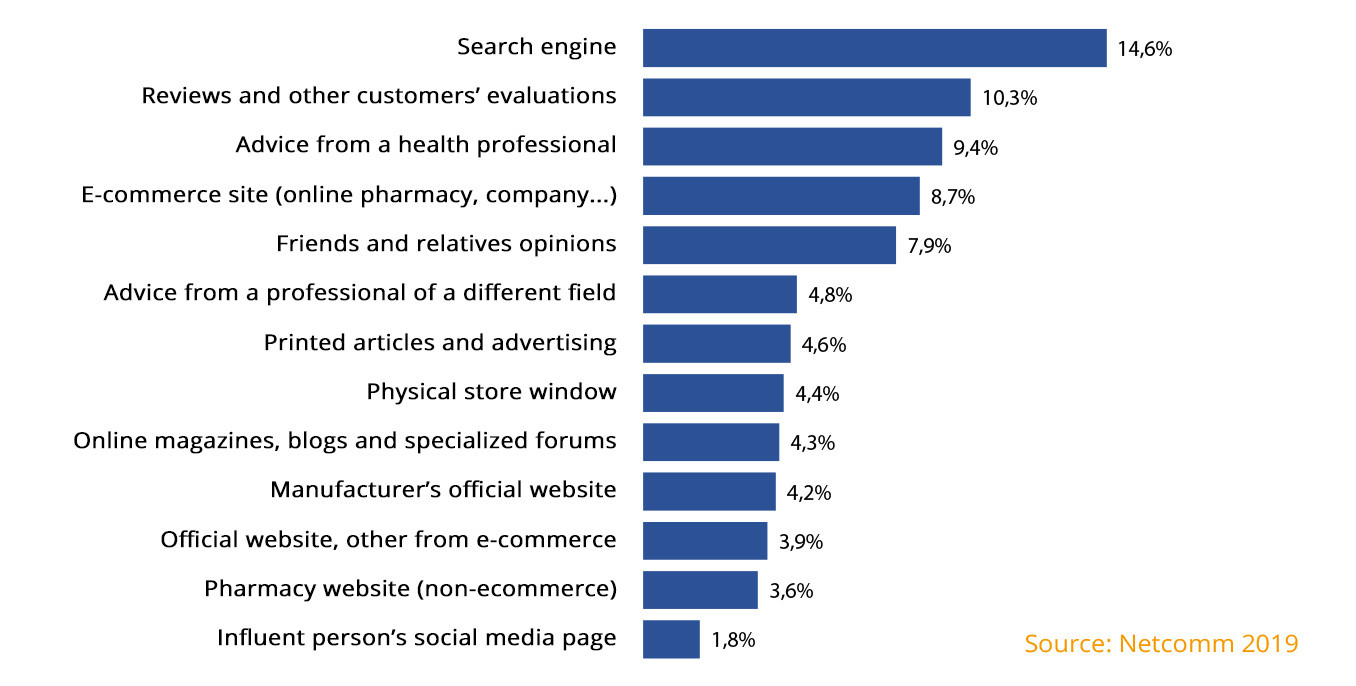 Obviously, the weight attributed to the different touchpoints changes significantly depending on the product category. Surely, we can draw two considerations:
- In Pharma, digital has a strong influence since the customer uses online channels to search for information
- The role of health professionals remains central throughout the journey
As far as purchasing drivers are concerned, the cost-effectiveness of online products compared to the physical store jumps to first place (42.2%). This is an Italian peculiarity because other countries (e.g. England) prefer aspects such as convenience and a wide choice.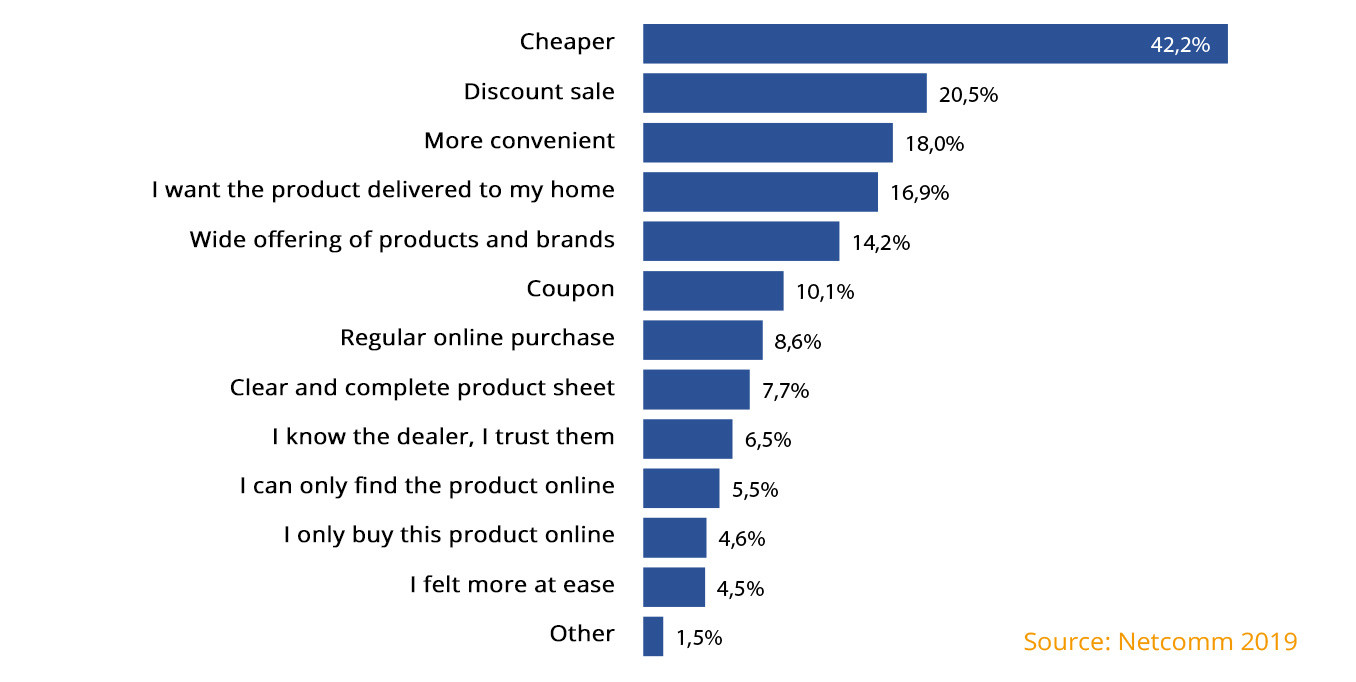 At the same time, some factors inhibit online shopping, external factors such as health professionals who discourage online purchases, or internal factors such as lack of trust and uncertainty about the quality and originality of the product. Among the deterrents, there is also an 8.3% of users who declared that they didn't buy online because certain drugs weren't available.


Where to buy online?
The merchant chosen for the purchase varies greatly from product to product, but as you can see online pharmacies are the preferred channel.
Online pharmacy: 48.7%
General eRetailer: 40.1%
Specialized eRetailer: 6,8%
Manifacturer: 4,4%
The pharmacy and the professionals who work there play a key role both in the purchasing process (their advice is among the first touchpoints taken into account by the user) and in the choice of purchase.
Speaking of e-shopping penetration in the industry, it is estimated that in 2019 about 800 million euros came from online purchases, a trend that is growing compared to the last years (542 in 2017 and 675 million euros in 2018). About half of this turnover (40/50%) is generated by online pharmacies.
However, their digital presence is still very limited, so the sector has a very high growth potential.
The value of purchases by category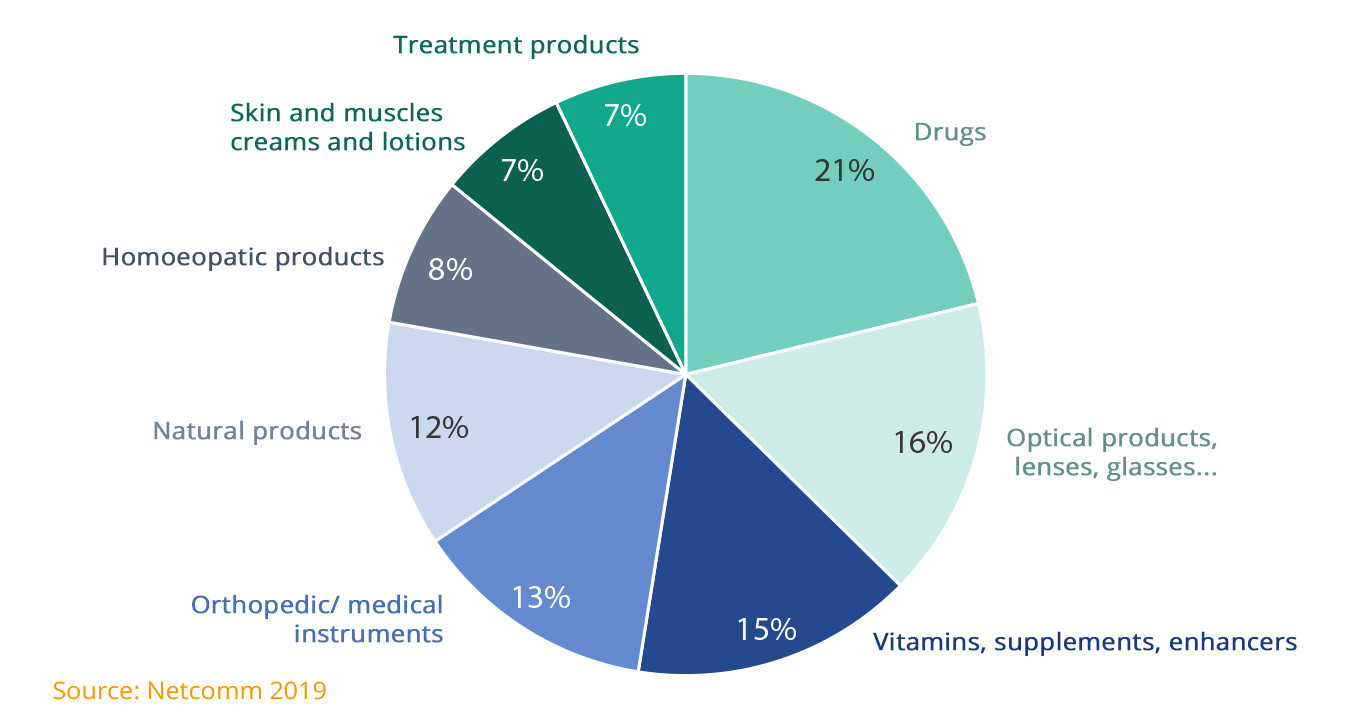 In percentage terms, how are these 800 million euros in turnover broken down?
Three product categories cover make up for over 50% of the value of the total sector: pharmaceuticals, optical products, and vitamins, sports supplements and enhancers.
Vitamins certainly have a higher penetration than non-prescription drugs, but the latter has a higher value in terms of average balance.
They also differ in sales channels: the privileged place to purchase a drug is the online pharmacy, while optical products are purchased mainly on specialized e-commerce sites (e-Retailer) and vitamins are mainly bought from general eRetailers.
What you should keep in mind is that consumers use digital a lot to choose which Health&Pharma products to buy and where to buy them, and this also improve the therapeutic adherence, so it is an opportunity that must be fed with a constant presence, especially in terms of content.