Published on May 04, 2020
How can companies take advantage of digital technologies to restart their business stronger than before, overcoming the health emergency.
In order to avoid an economic crisis, companies need to devise strategies to cushion the repercussions of the forced stop, which has already struck many industries, and to restart once the emergency is over.
This totally unexpected phenomenon has called companies to the important responsibility of avoiding the spread of the contagion. Although production lines and activities have had to shut down, fixed costs such as rents and the remuneration of the employees remain unchanged. The result is that companies need to revise their go-to-market chain in order to identify those touch points allowing them to keep revenues flowing.
With reduced mobility, consumer priorities and consumption dynamics have also changed. The Net has become the only window on the world, and digital is offering concrete answers to the users' supply and entertainment needs.
Since the end of February, in fact, there has been steady increase in the online demand, even from non-regular consumers. At the forefront are large-scale retail trade and dotcoms, which in some cases have tripled their online sales.
On the other hand, even those companies that continue to sell online are facing problems:
of management nature, with difficulty in processing large amounts of orders that were previously expected only on specific days such as Black Friday or Cyber Monday.
of technological nature, with site infrastructure struggling to withstand the stress of increased traffic and experiencing significant delays in loading times.
Work on the restart, how?

What aspects should companies focus on in order to re-organize and restructure their activities, to respond adequately to the crisis?

1) Reviewing their digital ecosystem
Starting with a centralized management of resources and tools

With a digitalization that has only taken place here in there, due to cultural, economic or infrastructure delays, a number of companies have found it difficult to cope with the problems that have arisen with the emergency.
The need to make employees productive even outside of their usual workplace has pushed organization to identify and test solutions for remote work.
An interesting response comes from a centralized management of a company's digital resources. Many companies use several different tools for the different phases of content lifecycle: creation, approval, publication... A redundancy meaning waste of time and increased costs.
Consider setting up workflows that allow a controlled, remote collaboration.
Centralized management = centralized workflows
An effective solution has proven to be libraries where digital resources and product information are centrally classified and accessible. Managers can use these shared work platforms to structure workflows that involve internal and external stakeholders of the company, assigning them tasks and access/intervention rights to the various areas.
With THRON, which is an Enterprise Content Platform, the workflows are structured in folder trees, and specific interfaces can be created for the different users, in order to boost productivity.
Among the advantages:
a complete vision over the entire content lifecycle
control over all access and actions performed
customization: every user will only be involved in the right process.
2) PROTECTING BRAND CONSISTENCY
by making any exchange of corporate data and content secure
A lot of people these days are working from home, connecting to corporate servers with their PCs; and many wonder how much damage could be caused to companies by the loss of security coming from this type of access, aggravated by the fact that the devices used may not be secure at all.
For this reason, now more than ever, it is necessary to share data and information securely. Using software such as THRON, certified ISO 27001 and 27018, will allow you to exchange information without worries because:
accesses and sharing are controlled and secure,
you can connect from anywhere in the world,
the data is stored on multiple data centers.
The users can only access, view and edit what they are allowed to, and through the Audit functionality all the operations that are done on the Platform will be recorded.
Brand consistency will benefit deeply, because the corporate files will only be in the hands of those who have the proper expertise and won't circulate unless they are approved and verified. Moreover, a centralized management means you can update or withdraw any content in an instant.


3) BRINGING ORDER TO YOUR DIGITAL STORES

in order to offer seamless, rich user experiences

While physical stores have to shut down, online stores are more open than ever: that's where the eyes of internet users fall. It's a good idea to check the shopping experience you're offering, asking yourself questions like: are my products fully described? Do they respond to the users' search intentions? Is my online showcase attractive? Is the navigation smooth?
The main problem for companies is to retrieve the right assets and information to complete the product sheet, which are scattered across multiple systems (ERP, PIM, saved locally in your colleague's PC, etc.).
Having them all in a single hub and classified speeds up their retrieval!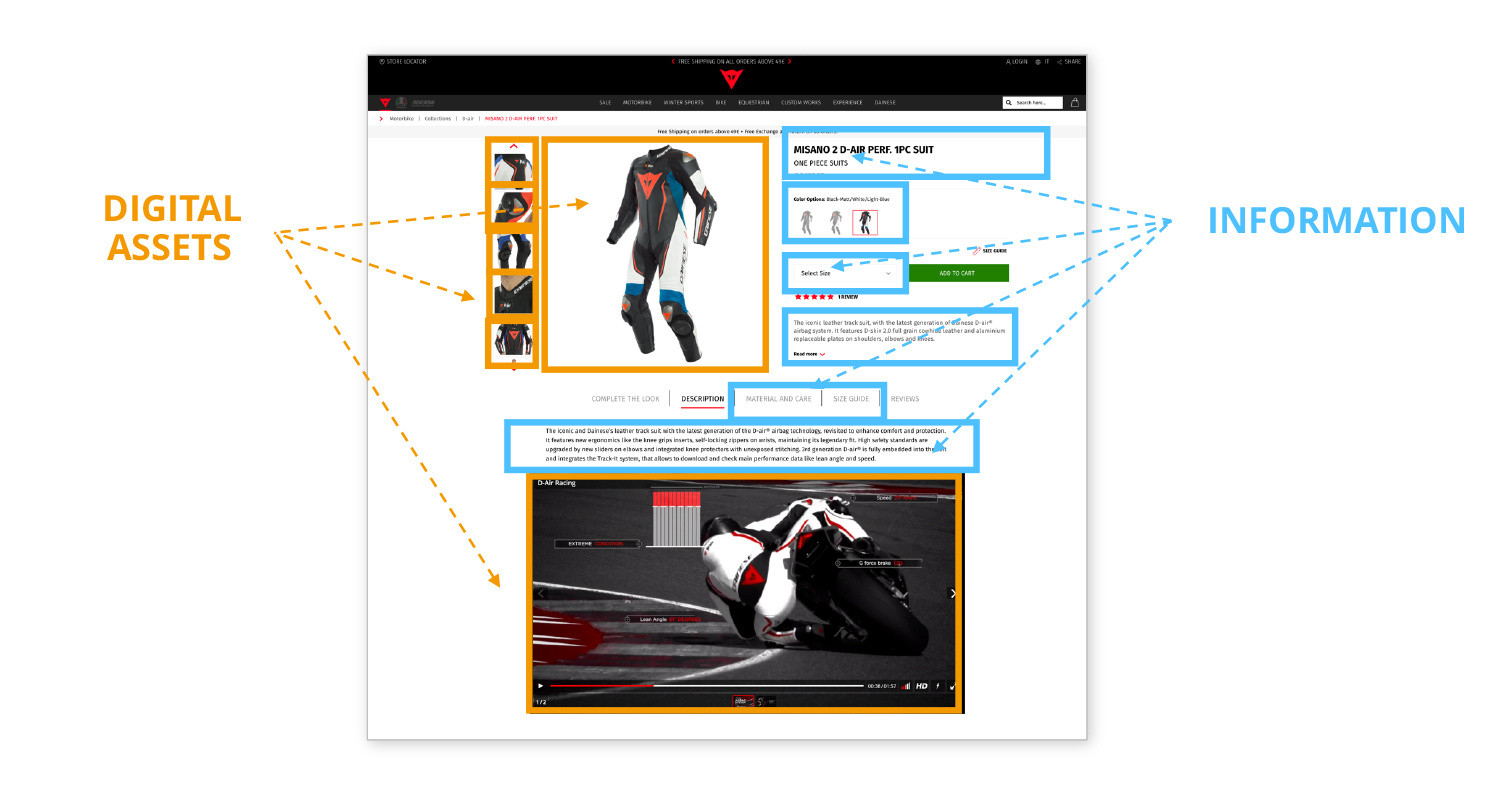 A product described with video tutorials or a gallery of images will surely offer more incentives to purchase, since the user cannot experience the product live.
This is why the homogeneity of your showcases will also benefit: there will be no conflicting or outdated information, because centralization means that only a single version of a file can exist, the correct one. With a product catalog in order, all is left is to verify the connection.
Are you sure your media content is displayed correctly? Isn't all that traffic going to slow down page loading? Of course it is. Therefore, distributing content on your channels using a CDN improves their performance. Doing so with THRON, since it has an integrated CDN, means distributing content without ever having to leave the platform.


4) COLLECTING DATA FROM ONLINE CHANNELS

To boost sales and improve promotional strategies

What is the main advantage of digital over physical? It can collect data in real time, while at the same time reaching your target in a personalized way.
The first step is making sure you have uniform evaluation metrics. If your channels are not synchronized with each other, the data collected will speak different "languages" and they won't be able to form a unique identity of the user who has visited them.
Social media, third party shelves such as marketplaces (Amazon, Zalando, etc.), owned media (website, blog, e-commerce, app), all must contribute to engage the consumer and to outline their profile, albeit with different purposes. But it is owned channels in particular that collect First Party data, which allow to dig deep into a user's psyche and differentiate your offer from that of the competition.
They can do so thanks to Content Intelligence, AI that allows to "activate" content. The concept is simple: AI identifies topics, attributes, editorial characteristics of content and products, and as soon as a user visits them, their profile will be enriched with their preferences.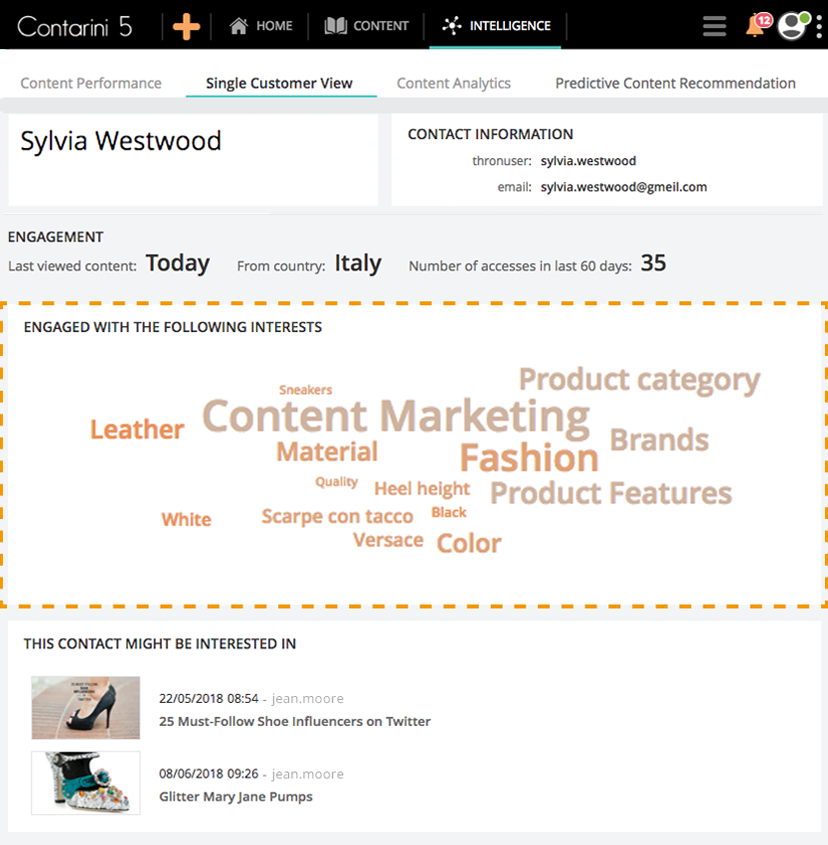 People are navigating a lot these days, while at home. So, as soon as stores re-open, companies will have a huge amount of data available to optimize in-store sales strategies. Informed shop assistants, more efficient shelf layouts, targeted upsell strategies and much more.
It's not only about store re-openings, digital data is already coming in handy now! We can let AI use it to make content recommendations on the site, send targeted newsletters according to the interests users have expressed, or plan effective digital marketing strategies.
Communicating is a hard task itself at such a difficult time. Why not leave room for informative and entertaining content that engages the user and further strengthens the relationship with the brand? Digital will help you.