Published on March 05, 2018
As professionals in the world of digital marketing, we often meet two interesting kinds of interlocutors:
those who already know what they need. With a perfect knowledge of their business, they ask us to translate their ideas into practice, thanks to our technical expertis

e in digital marketing;

those who admit their inexperience in online marketing and who are in search of agencies that will provide them with creative ideas to break through.
Both categories are risky and may reveal themselves to be the bearers of a mutual lack of satisfaction. This is because the first are unlikely to take a step back on how good their ideas are. Therefore – should the result be unsuccessful – they will place the blame on who has not been able to put them into practice correctly (that is, the agency). The second because they unload all duties and honor onto the agency, meaning that the latter systematically becomes responsible in the event that the expected results are insufficient or are not reached. But especially because they both want one thing, but are searching for another: They don't need a creative idea. They need a strategy.
We don't like it when a project results in a mutual lack of satisfaction.
Who would like it?


"An idea is not enough. A strategy is required."


This is what we tell our customers – or potential customers – in the preliminary phase, to avoid unpleasant and often irremediable outcomes.
In particular, we don't choose which direction to go in: it's the numbers, the statistics, that decide for us. Our ability lies in identifying the right numbers, reading them correctly, understanding what actions they suggest, and putting them into practice in the best possible way. Everything combined – here and now – with the right dose of creativity.
We couldn't do anything else. Our interlocutors – that is, companies – are called upon today to install dialogue and create a trusting relationship and customer engagement with people who are anything but unprepared: before making a purchase, 59% of Italians inform themselves online, regardless of whether the sale occurs physically or digitally (all data within this article refer to Google's Consumer Barometer).


Data is there, and it makes the difference.


Internet accompanies the user throughout the purchasing cycle (this is why web marketing is so important):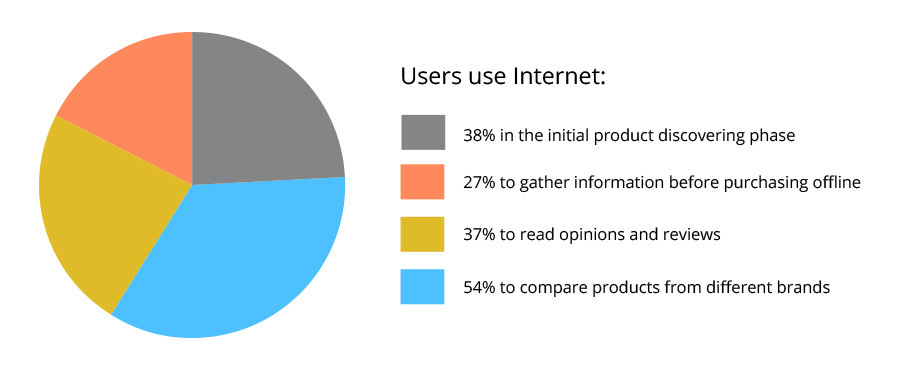 The phase of the purchasing cycle in which a customer finds themselves therefore becomes a fundamental variable: it determines the motivational stimuli that need to be pushed and the relevant message, but it also establishes the device through which to direct them.
Online sales are concluded primarily on desktops (87%) compared with smartphones. But the search for information follows an almost opposite journey, since 62% of Italians are used to having a smartphone in their hands, interacting with it on an average of 150 times per day (!). Indeed, 39% claim to use their smartphones in the preliminary phase of discovering and finding out about the product.
The purchasing decision may not come immediately. Generally, users get there after a knowledge-building journey: