The importance of a data-driven strategy
At a time when the spotlight is very much on GDPR and the general issue of user privacy, with plausible cuts to the ability to track users online, it is essential to understand the strategic importance of First Party Data and how it can be incorporated into a global Business Intelligence project.
In confirmation of this, many studies and research projects have shown how the correct use of the growing amount of information available is a key factor for the growth of any business. Back in 2015, Gartner presented a clear case of the correlation between data analytics and an increased ability to generate business value ("How Successful Midsize Enterprise BI and Analytics Programs Deliver Business Value" - 12 June 2015)
Following this, Harvard Business Review Analytics Services also turned its attention to how markedly superior results can be obtained when businesses incorporate audience data into their strategies. According to this study, data on purchase behavior, browsing and response rates are key factors in improving both the performance of the business but also the type of products offered to customers.
It is therefore clear that analyzing the data businesses are able to collect themselves, known as First Party Data, is the first step in building a more structured strategy, and therefore a more successful business. According to a study published in the Economist, 86% of Marketing Managers see 2020 as the date within which they will have total control over the user experience. It remains to be seen, then, how GDPR will fit into this framework and how it will change the way we think about data after 25 May.
To get the most from our First Party Data, in other words the data gathered and owned the organization itself we need a data management platform that can provide answers to the three key principles underpinning data analysis, which are referred to with the acronym COD.
- Comprehension
Understanding the data we have or could easily obtain, how it could be used to create added value for the company and its products.
- Organization
Organizing data and cross-referencing it with other data in our possession in order to generate value.
- Decision
Deciding how to use data to achieve business goals, whatever the field, i.e. maximizing turnover and profit.
Clearly, these three points are at the heart of data-driven strategies, which begin with the analysis of data that be easily accessed, namely first-party data, obtained through proprietary streams. It goes without saying that the first place to turn, at this stage, is to Google Analytics, and also the premium version of the tool, Google Analytics 360, both of which are, without doubt, the most widely used tracking tools.
The most popular Analytics
What other tools work in parallel with Google Analytics to give us a deeper understanding of users, enriching the data we already own and allowing us to build a data-driven approach?
The list would be a very long one so we've picked out the main ones and summed them up in a few lines for you:
Tableau
Tableau analyses and displays data in a different way, aggregating it with the search for hidden information, cutting down on the manual steps and saving time in general. It is still a fairly unknown tool but critical for big organizations.
HotJar
Hotjar helps to optimize and improve the UX of your online resources by analyzing browsing data and user behavior. Delivers statistics on scrolling behavior, heat maps and much more.
Hubspot
Hubspot is currently the most popular Inbound Marketing platform that optimizes data streams and funnels to enable businesses to automate the process whereby it attracts visitors, converts them to leads and turns them into customers.
Google AdWords API and Tab Script
These powerful Google tools optimize AdWords campaigns, starting from campaign and external data. Low stock, analytics of most popular brands by products, sales frequency by period are just some of the datasets that can be automated, expedited and managed at the data level.
Google Optimize
This essential CRO tool analyses, tests and optimizes how users experience your website by running A/B testing and variations.
Google Search Console
An important source of information about your site, this tool helps to locate and test the critical aspects of the online platform in terms of SEO optimization and user scrolling/experience.
Google Tag Manager
This extremely powerful tool delivers one hundred per cent integration to track and receive browsing information with almost instant integration.
Google Data Studio
Data is worthless if we can't read, analyze and manage it. This Google tool lets you pull in data from different channels to generate reports that can be viewed online and which update in real time.
Lyris
Client-side communication data-driven reporting. Amongst other things, this tool automates email and digital messaging at the organization level and integrates communication with customers across all channels.
Trello, Jira or Slack
None of the above information would be manageable without an agile data management methodology. These three platforms manage and organize processes and find the best way to simplify and save resources and time.
Using these tools, in parallel with the advanced and necessary use of tracking tools like Google Analytics, can significantly increase KPIs
To demonstrate the potential of a data-driven approach and illustrate how useful the tools we've listed can be, let's take a look at the case history of a start-up followed by Queryo.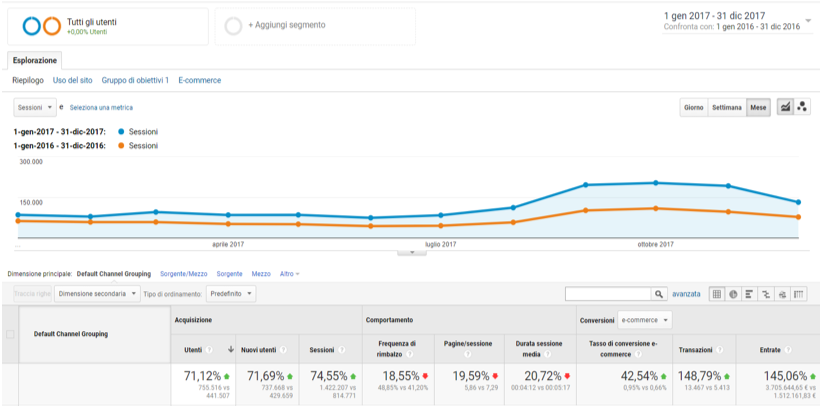 Like most start-ups, the customer's approach was not data-driven and survived purely because it was lucky to have a good quality product.
A heavy restructuring of previous campaigns managed on a budget basis to a fully data-driven ROI system, incorporating the analysis of first-party data, conversion rates, product approach, conversion funnel and CRO, meant a presentation could be made to the end customer showing the product at an earlier point in the funnel as compared to the previous year, proof that conversation was happening more quickly and with fewer page views, and a resultant 42% increase in conversion rate, as well as laying the groundwork for a successful project.
A data-driven approach is not a one-shot approach - it is a way of thinking. As an approach it lends itself to examination and analysis, as well as constant optimization and improvement thanks to the constant flow of information about users.
It is estimated that, by 2020, global information will be 75 times greater than nine years ago (2011). This wealth of information must be constantly exploited for maximum optimization and constant growth.
The graph below shows Q1 2018 figures for the start-up discussed above.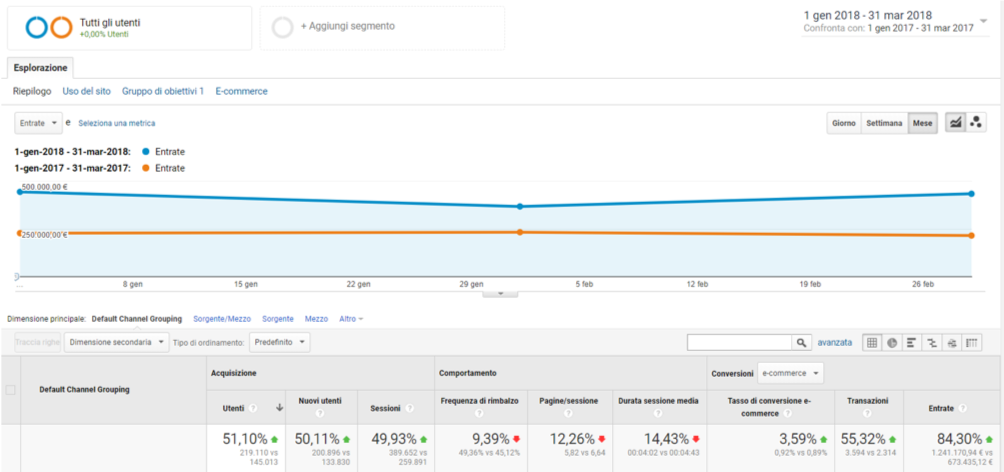 What role does Content Intelligence play in all this?
Given that we're in the Era of the Customer meaning consumers are much more evolved, to capture their increasingly fleeting attention and stand out from competitors, brands need an approach that puts customers at the heart of organizational processes (customer obsession) and gives them an excellent and highly tailored customer experience, as recommended by Rusty Warner from Forrester, through the brand's Content Strategy.
Rethinking your Content Strategy can help take better care of your customers, provided you are always aware that you're not just sharing content but a whole experience and the chance to create an emotional connection with customers. Content performance can be measured and content strategy perfected accordingly, creating customer experiences which meet real audience expectations, and the method used to do this is called Content Intelligence (CI).
As mentioned in "Content Intelligence for Dummies", published by Wiley, Content Intelligence (CI) refers to the systems and software which draw on Artificial Intelligence (AI) to gather first-party data from user touchpoints to generate real-time insights that can be used to build a more effective Content Strategy. Content Intelligence, and its ability to shed light on the interests of users interacting with a brand's content, helps brands to design content that better reflects their customers.
We know that people tell a lot about themselves from the content they choose at the various touchpoints they encounter (websites, e-commerce, mobile apps, social networks, in-store initiatives, etc.): CI can analyze and extrapolate these "trails" users leave behind, activating content (making it intelligent) and turning it into a receptor of the user's interests.
Advanced Analytics and Content Intelligence working together for ever more effective Customer Obsession
At this stage, with so much information and so many different platforms to hand, it is important to understand the benefits and the roles they can play.
Audience modelling can be built into the customer experience by incorporating the statistical data obtained from Analytics - which outlines browsing behavior for each segment of a brand's audience and cross-references it with website activity (visits, pages viewed, time per page, bounce rate, etc.) - while qualitative data on individuals captured by CI extracts the maximum value from a brand's content by enriching a user's CRM profile, adding his or her current interests and measuring the editorial performance of content on the basis of the influence it has on calls-to-action, as well as making the customer experience more dynamic by suggesting more relevant, more personalized content across the various organizational touchpoints without interrupting the user's online journey.
Moreover, the data collected by CI can be easily exported and integrated into practical dashboards from which business intelligence reports can be generated for management. The great thing about CI is that it is not in any way invasive in the organizational architecture, it also integrates seamlessly with legacy systems and technologies, generating value from something that businesses already own, namely, content.