Published on March 13, 2020
Effective digital experiences: what does it take to create them? What are the advantages? Some suggestions to make the most out of the digital material that companies already own.
Being enchanted by the scent of paper as soon as you enter a bookshop. Have you ever experienced it? The physical store has an extra gear: the sensory stimuli it conveys are very difficult to recreate online, where the only senses involved are sight and hearing.
That's why, when trying to get across the value of a product, you have to make sure you're giving the user a rich digital experience, because he or she has no way to experience your product other than reading about it and watching what's available on the Net.
An organization of the content (digital assets + product information) is required, in order to anticipate any doubts the users may have, providing them a complete product sheet to guide them in their choice: why buy this product? How to use it? What are its characteristics?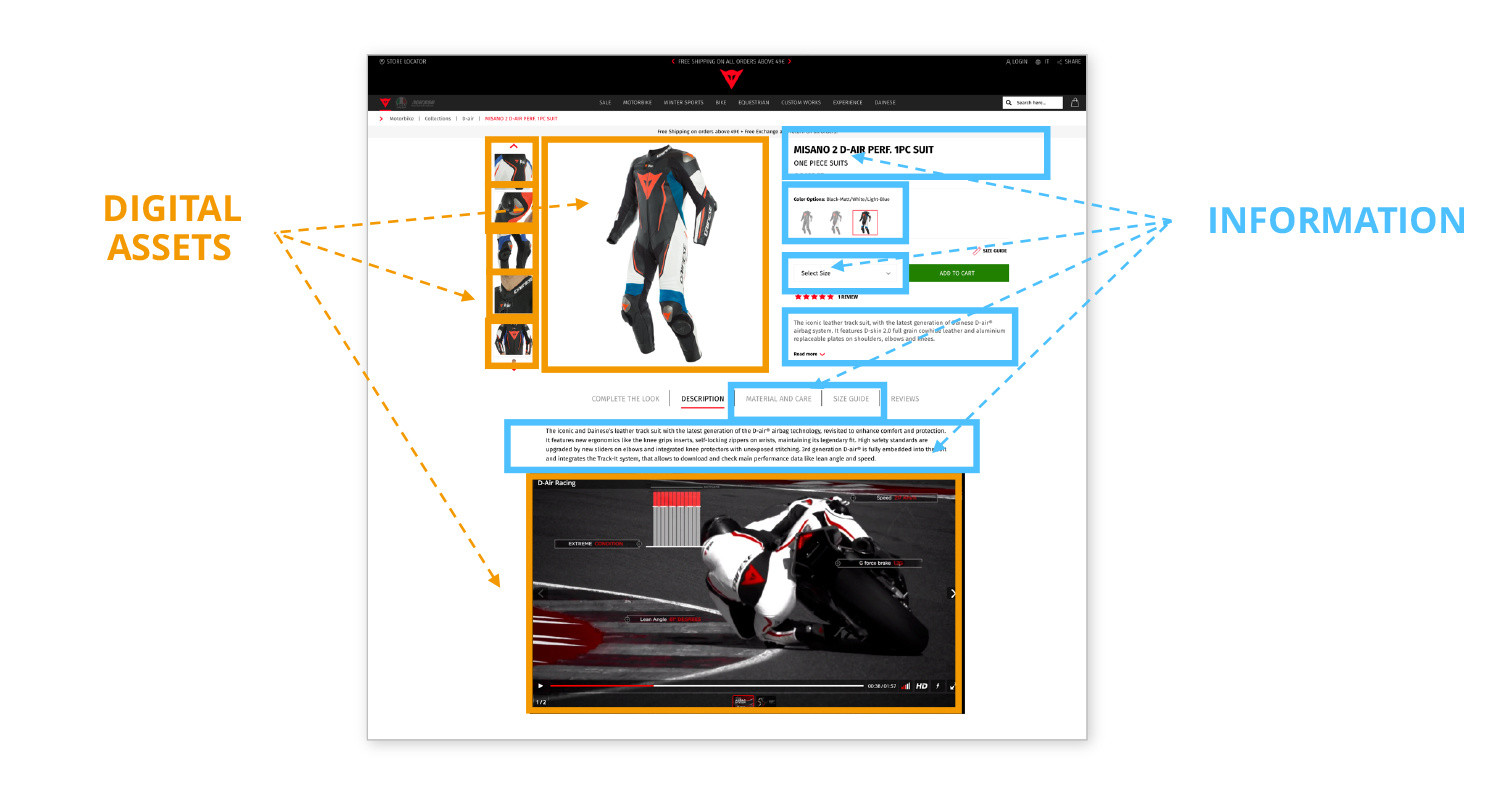 An effective digital experience starts from centralizing assets and product information, often scattered across different tools (marketing repositories, management, PIM etc.), in a single tool that classifies them according to a common taxonomy.
In this way, you can retrieve everything you need to feed your channels using as keywords the SKU of a product or its characteristics. Let's see the advantages:
fewer users leaving the site and less returned products
Comprehensive product sheets will keep users on the site, with no need for them to run away on other website in search for information. That's especially true for retail, where the products sold are the same on many sites. Returned products will also decrease, because the user gets "just what they expected".
But what do we mean by comprehensiveness? The product needs to be described with a wealth of details, not only textual information (brand, model, product features, descriptions, comparison tables etc.) but also iconographic materials (frontal shots, lightboxes, video tutorials etc.) and logistical information (availability, delivery times etc.).
Google likes quality content. Companies often have it, but they don't manage to use it at the right time. Remember that beautiful infographic we made five years ago? Where did it go? And so on.
It's worth deploying all your strength in creating rich site pages, as it allows you to be found more easily and to intercept organic traffic. And once you have the material ready, you can focus more on SEO.
Corporate content must be fully exploited, whether it is Marketing or Product content: its use should not be limited to the present moment, but it has to be kept at hand for any new occasion requiring it. This guarantees an additional return on the initial investment.
You won't need new, expensive advertising campaigns to increase conversions: just use correctly what you already have. As long as you use the right technology, enabling your company to organize the different resources in a single hub that you can draw on.