Published on May 02, 2018
Campagnolo is an historic brand in the world of cycling that is much loved by its customers, despite the fact that it has never had a direct relationship with them. Indeed, our company supplies its products through distributers first, and then retailers.
With the arrival of the digital era, a point of contact was finally established, represented by the content that the brand produces for its customers: we wanted to start out precisely from this content in order to further consolidate our relationship with them. This is allowing us to innovate without having to significantly shake up our company processes, because we are taking advantage of something that our company would be producing anyway (content) and maximizing its value.
On the company's journey of getting closer to people, we also decided to evaluate our customer experience to understand what level we were starting out from. Collaborating with KPMG, we measured the brand's performance through an analysis inspired by the Six Pillars method; the latter is a model developed by KPMG Nunwood's Excellence Center to measure the customer experience offered by a brand according to the perception that customers have of it.
From measuring the CX, it emerged that the perception of our brand among customers was good, but there were areas where we could improve our performance. Indeed, KPMG provided us with a report that indicated which aspects required intervention and with which tools. Among these, Content Intelligence (that we have already started using) was identified as a way to obtain significant improvements.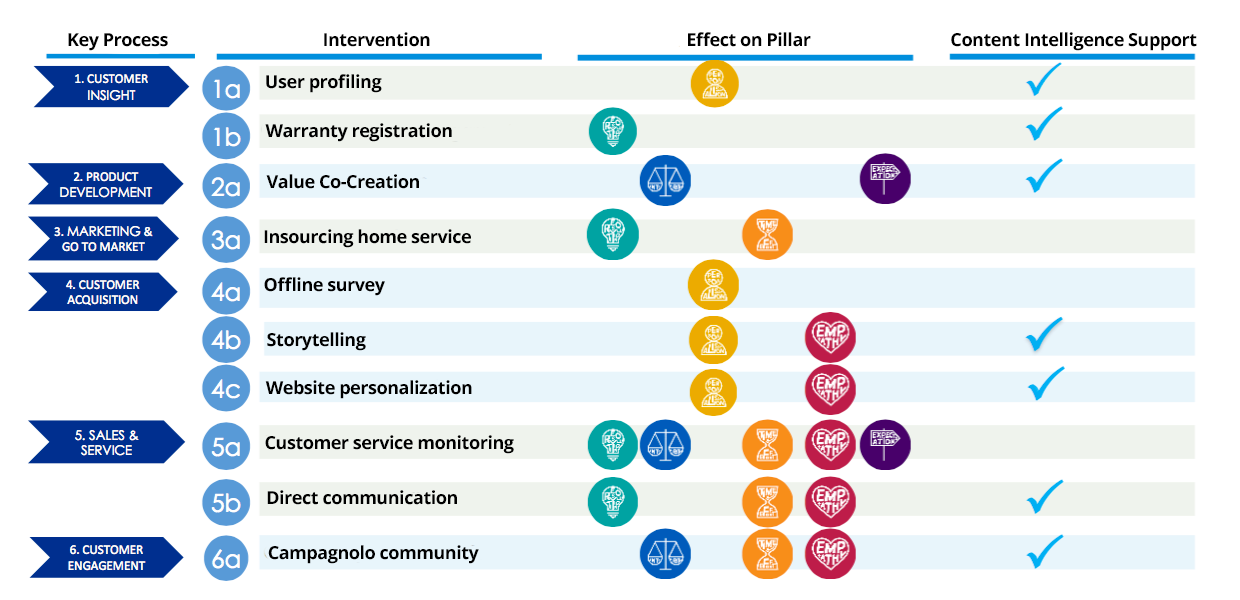 Campagnolo's aim in the near future is to pass to a personalized form of communication, both in B2B and B2C contexts. To this end, we have embarked on a journey consisting of the following three stages:
1. Enrichment of the user profile
We are using this particularly in our portal dedicated to distributors: by observing what they buy, or otherwise, and what they view on our channels, we can understand what each of them is interested in and how to better relate with them, both online and offline, for example, when we assist them or propose a new product.
2. Measurement of content performance
To populate the channels on which we interact with customers and distributors of the information and materials they desire, it is useful for us to understand, using Content Intelligence, which materials is viewed the most. For example, it was interesting to find out which images were considered the most attractive among those published on the website. There are many product images compared to those that depict teams of cyclists: from the performance analysis of such content, however, we realized that the most viewed images are those belonging to the second category. From here, we can start to completely review our content production strategy, proposing something that strikes more of a chord with users.
3. Communication personalization
According to each user's needs, we would like to offer them tailor-made customer experiences as they are surfing our channels. For example, we are designing our website to show each individual the content that is most in line with their interests. But, we also want to improve marketing automation actions, integrating CRM information with that of user interests collected by Content Intelligence. In this way, we can tune in to our customers from an emotional point of view, as well as offering them information and materials that are genuinely relevant.
It is a great innovation that the company is approaching as an important evolution, made up of small steps, that will allow it to offer an increasingly personalized and effective customer experience.