The article reports the trends highlighted by KPMG/Harvey Nash research, the world's largest study on IT leadership and its relationship with business.
2019 was a record year for IT, with the largest percentage of companies increasing their technology investment budgets. Harvey Nash and KPMG's CIO Survey A Changing Perspective analyzed a timespan of 15 years - from 2005 to 2019 – and the companies that had increased their technology investment never exceeded 50%, while in 2019 they reached 55%.
The two trends driving the company growth are:
- "make money" with the development of innovative and customer-centric products/services;
- "save money", with the optimization of existing processes through technology. Cost reduction, in particular, is the main investment driver indicated by Italian CIOs.
44% of companies expect to innovate their product/service or change their business model in the next 3 years. Those most "affected" by this will be those with a more easily digitized product: more than half of the CIOs in the Telecommunications (57%), Media (57%) and Tech (56%) industries expect their business to change. However, even more traditional industries such as Manufacturing (31%) do think evolution is very possible.

Penetration and management effects of the new technologies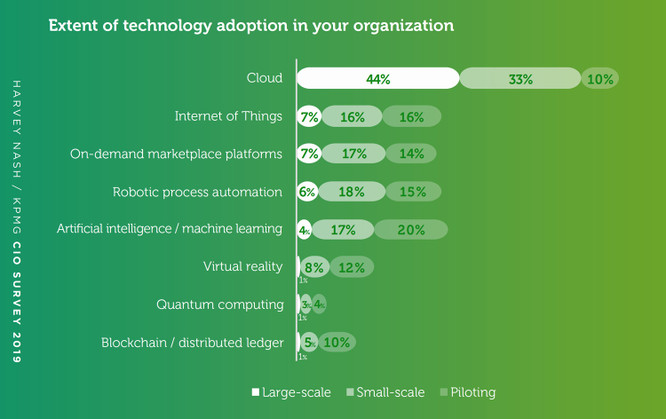 The adoption of the Cloud is now mature, with almost half of the respondent companies adopting it on a large scale. Until five years ago, many were still skeptical about this technology, but now 77% of companies are confident in using it.
Other technologies such as IoT, automation or machine learning, on the other hand, still have limited penetration, with many companies just beginning to introduce them (pilot or small-scale projects).
The "pay-per-use" pricing method of the cloud has also introduced greater complexity in evaluating the dedicated budget, transforming expenses included in investments (CAPEX) into operating costs (OPEX): this evolution requires close collaboration with the financial department when managing budgets.
According to the CIOs surveyed, 10% of the workforce is going to be replaced in five years by technologies such as AI or process automation. But this is not necessarily a bad thing: 2/3 of the CIOs think that this will open up new possibilities, like investing creativity in more complex problems and more satisfactory interactions, and also creating new types of work.
Improving business performance through investment in technology

There is a widespread fear that investments in technology will force a company into long projects with limited impact on the business. Yet research shows that the "digital leaders", i.e. the organizations that believe they have succeeded in integrating technology into their business strategy, have significantly better business results than the average: +16% of customer experience, +17 % of employee experience, + 13% of margin, etc.
Similar results were obtained by applying different strategies:
- a cooperation between IT and business functions in technology budget management, in order to better align technological choices with market needs;
- an approach based on speed, on both experimentation and decision to proceed with the new technology;
- technological choices based on a vision more focused on the product/service offered, and the evolution of the business on the medium term, than on the project itself;
- the establishment of inter-functional teams in the management of innovation projects;
- special attention to the role of data management in the corporate strategy.
Business-managed IT

With the proliferation of cloud-based services, which offer intuitive interfaces, the boundary between IT systems and business systems has become more blurred. Business executives, who have a better understanding of the market and customer needs, have become more direct in their demands on what technology should do.
It has been found that 2/3 of companies with greater synergy between business and IT in terms of investment perform better than their competitors in several aspects. These include the time-to-market of new products (+52%) and employee experience (+38%), an increasingly important factor in bringing organizations closer to their customers.
On the other hand, the relationship between business and IT… cannot exclude IT: the companies that have not involved their CIO in the choice of technology are more exposed to the risk of cyber attacks or potential damage to the relationship of trust with the customer.
Almost all technology leaders (91%) believe that privacy and trust in data are as important in the customer experience as the product/service itself.
Finally, the research presents the survey results by sector and by country, in order to allow the participants to compare themselves with their peers in their choices in technology investment.