Having data-driven tools for the creation of editorial plans is essential, whether we're talking about the company blog, a restricted area for institutional content, or inbound sales. The content that populates your owned channel, in fact, significantly affects the performance of your business.
Before making a choice, there are many variables that a Content Strategist must consider: type of channel, topic, publication time, keywords, tone of voice, subject and mood of the images.
There has been a lot of talk about data-driven decisions: the technologies available constantly become more effective, to the point that nothing of what we do is left to chance.
Here is an overview of the best Content Strategy data-driven tools that are available to you today.
Trending hunting
Tracking trends and readjusting content in order to ride hot topics is an essential step. Without this phase, it is difficult to appear in the first results of a search, or to achieve high peaks of organic reach on social media.
The tools available are endless. Some are totally free and can get you immediate but superficial results, while others may have high costs and provide data out of very complex analysis.
Tool #1: Buzzsumo
BuzzSumo is a search and monitoring tool which allows you to:
Identify the most shared content on the main social media: by entering your domain (or someone else's) you can see what has been shared;
Find influencers related to particular topics;
Activate notifications based on keywords, brand name, link, author's name or domain;
Monitor competitors and make analysis based on their content.
In the free area of the tool you'll access a classic search-bar, where you can apply simple Boolean rules to find only what really interests you.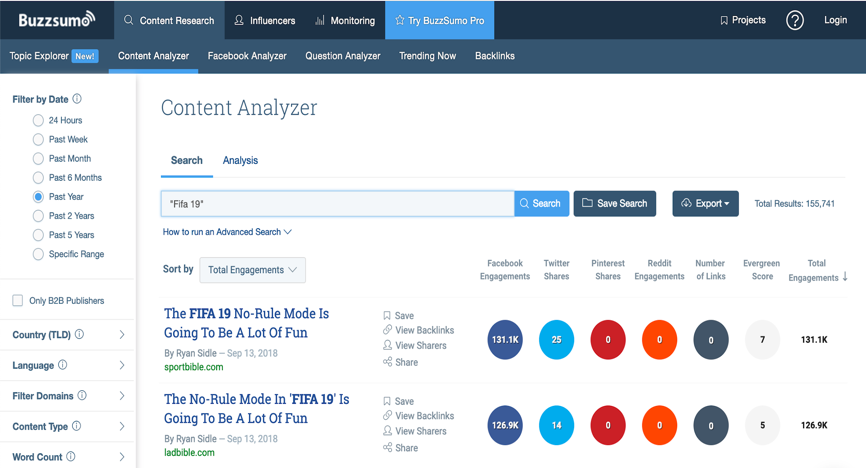 Tool #2: Google Trends


You must have already used it, to quickly understand the hype behind a topic or keyword. But there are some less obvious advantages that don't jump right out at you:
Identify seasonal trends. In these cases, producing ad hoc content at the peak time and optimizing the most relevant pages before the peak occurs can give an important boost to your content, regardless of the competition on that keyword.
Avoid using "unicorn" keywords. If you don't want to risk seeing your expectations destroyed on an extremely trendy and "sexy" keyword, always cross-reference the data with keywords and related topics, in order to support your intuition.
Use other types of search (e.g. Google and Youtube) and compare them: sometimes, trends can be diametrically opposite while being related to the same topic.
Also called Social Media Listening, it is a set of processes to understand natural language, aimed at the interpretation of millions of public social posts daily. Thanks to data visualization technologies and Artificial Intelligence algorithms, you can get actionable insights for different areas of each business.
I'll tell you about three simple procedures to improve the performance of your content.
Tool #1: Word Cloud
It is the most national-popular visualization of all Social Media Intelligence. Now present even in the most popular television formats, the "word cloud" is a way of displaying the most frequent words (or groups of words), found within different text sources. The distance from the center, the size of the characters, color values (one or more of these variables) may help highlight the most relevant terms. It's like having an assistant reading content in our place; in the future, we're going to witness how entity extraction and topic detection algorithms can further improve this type of visualization.
The documents in exam (Facebook posts or comments, tweets, etc.) all have an associated date and time. It is therefore easy to analyze word clouds that refer to specific time intervals, identifying the differences.
Advantages:
The competition on certain keywords being equal, you can choose which one to use from the analysis of frequency on social media.
Regardless of your blog editorial plan, you can re-use relevant posts, reformulating copy according to the topics that have emerged from your word cloud.
You can monitor an industry event, such as Salone del Mobile, and understand the latest trends.
Tool #2: Image Analysis

Can you estimate the effort required by content production? How long does it take you to write an article? And how much time do you need to find the right images to attach to it? 20% and 80%, 30% and 70%, or perhaps 50% and 50%?
By using Natural Language Processing technologies, given a sample as relevant as possible of posts, it is possible to analyze multimedia content such as images and classify it according to a series of parameters. For example, from a photo you can extract information such as the subject, the environment, other relevant elements such as people, objects, mood, prevailing colors, as well as hashtags and the number of likes and shares.
Back to the example of Salone del Mobile: what kind of furniture appears in the pictures the visitors of the fair have published online? Which subjects generated the most engagement? A good analysis and a couple of clicks to extrapolate this information, and the range of images for your content is greatly reduced.
Tool #3: User Habit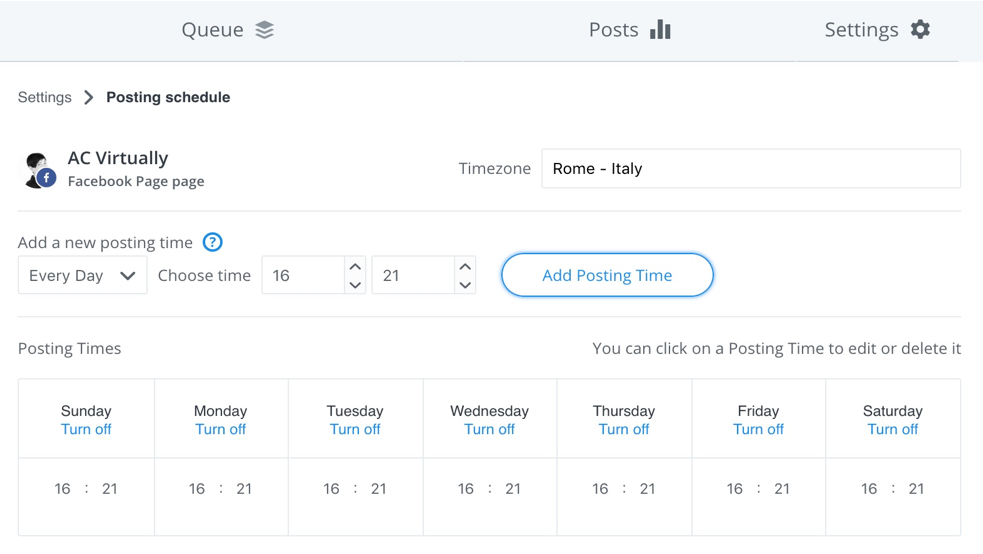 You certainly know Buffer, one of the most famous social content publishing and management tools. Among the various features, of particular interest is the table that shows the best publication times for your future posts, with the possibility of programming posts on the basis of suggestions provided by Artificial Intelligence.
Unfortunately, like many other Social Media Publishing tools, its reasoning is based in owned channels and their audiences. This severely limits the extraction of truly significant data.
Imagine knowing the sharing times of all the posts about furniture, of all the main Facebook pages (not only yours), of all the users who tweeted from Salone del Mobile sharing a picture on Instagram.
Imagine you could do the same kind of analysis for the Anglo-Saxon world, in anticipation of the opening of a new category intended for readers of a different language and country, so with habits and a time zone completely different from yours. You couldn't do all of this would with tools that limit their analysis to content on your owned channels. Like native Facebook Insights, or Buffer's suggestions on publication times.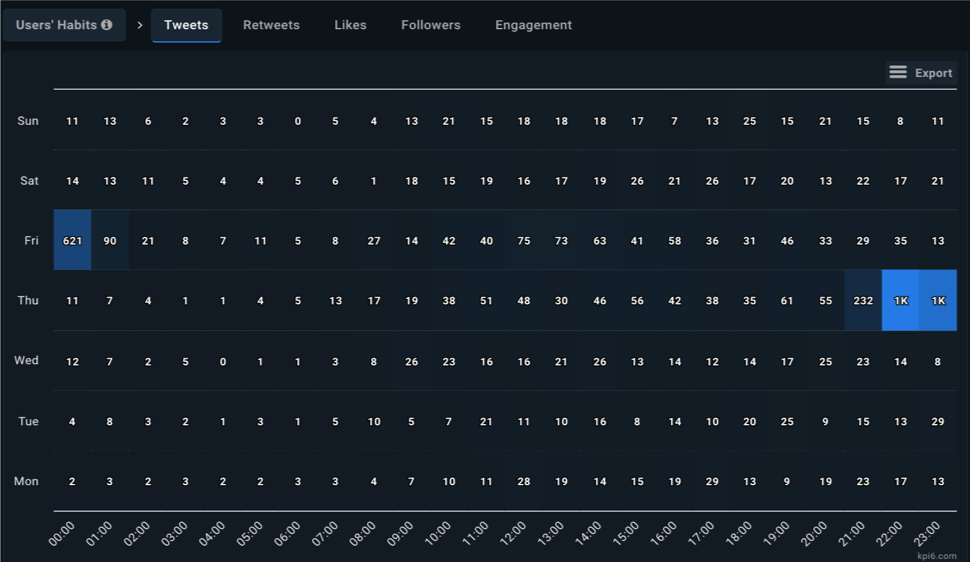 The image shows you a year of tweets about chef Locatelli, which are strongly polarized in the moments of the live broadcasting of Masterchef (on Thursday evening, in Italy).
In this case, the advantage lies in being able to understand how the appearance of chef Locatelli in the program created engagement at different times and days of the week, regardless of the page or account you manage. This allows you to identify which are the best times to exploit a topic, potentially related to your editorial plan.
Conclusions
Standards have been requiring optimized SEO and keyword planning, calibrated in the best possible way. But oftentimes, the performance of content is influenced by events taking place outside of your owned channels, thus beyond your control.
It doesn't have to be like that anymore: you can take advantage of the huge amount of social posts and unsolicited opinions from all over the world, gaining information about those industries that influence your business or your editorial staff (small or large).