Published on January 22, 2020
Food brand and mass retailer together to create data-driven campaigns: the ways they can actively collaborate to push online sales further. We discuss this with Elisabetta Corazza, Head of Digital Marketing at Danone.
Q: Danone, like most FMCG companies in the food industry, does not have direct e-commerce, but is mediated by retail platforms. What difficulties do retailers encounter when exchanging data with the food brand? Are there any missed opportunities?
A: Danone is a food FMCG company, in the ultra-fresh category in particular, which developed its online channel in the only possible way without a proprietary e-commerce: by collaborating with retail platforms.
95% of our products are distributed for on the traditional channel, and the remaining 5% is divided between the online channel and what is called the "on the go" or "away from home" channel (autogrill, fast food etc.). Until now, however, the online approach of mass retail chains is still borrowed from the offline approach: online supermarkets are not so different from physical supermarkets.
We forget the potential of digital, a channel that allows brands to know in detail the behavior of online users, even if anonymously. This set of data can improve exponentially the results of digital campaigns.
For example, by relying on the website cookies we can offer users advertisements that have a much higher conversion rate, being built on the actual interests a user has shown.
However, companies like Danone that would like to create tailored digital campaigns find themselves "orphaned" of the necessary data which is hold by retailers, so they will lose a valuable opportunity to appeal those users who are not in the "traditional" target.
From our point of view, a synergy between food brand and retailer, with the sharing of data would give a great boost to sales. But in Italy at the moment it is difficult to find partners ready to discuss this matter, also because of a strong attachment to tradition. Approaching digital with the same logics of the analog world means losing important opportunities.
Q: How does this affect the offer of digital content, especially with regard to the enrichment of e-commerce product sheets?
A: Content plays a fundamental role in the e-commerce channel, which is comparable to that of the product sheet of a dress in the fashion industry. Anyone who has had an online shopping experience has certainly been influenced by photographs, reviews, videos that explain and show what the dress will look like.
In the consumer world, however, the online product sheets of supermarket products are very standardized. This is certainly due to the large quantity and variety of products on the market, but I'm convinced that if you could work in a more custom way, starting collaborations between companies and retailers, the product sheets could be enriched with relevant content (images, recipes, etc..), making them more appealing and engaging for the user.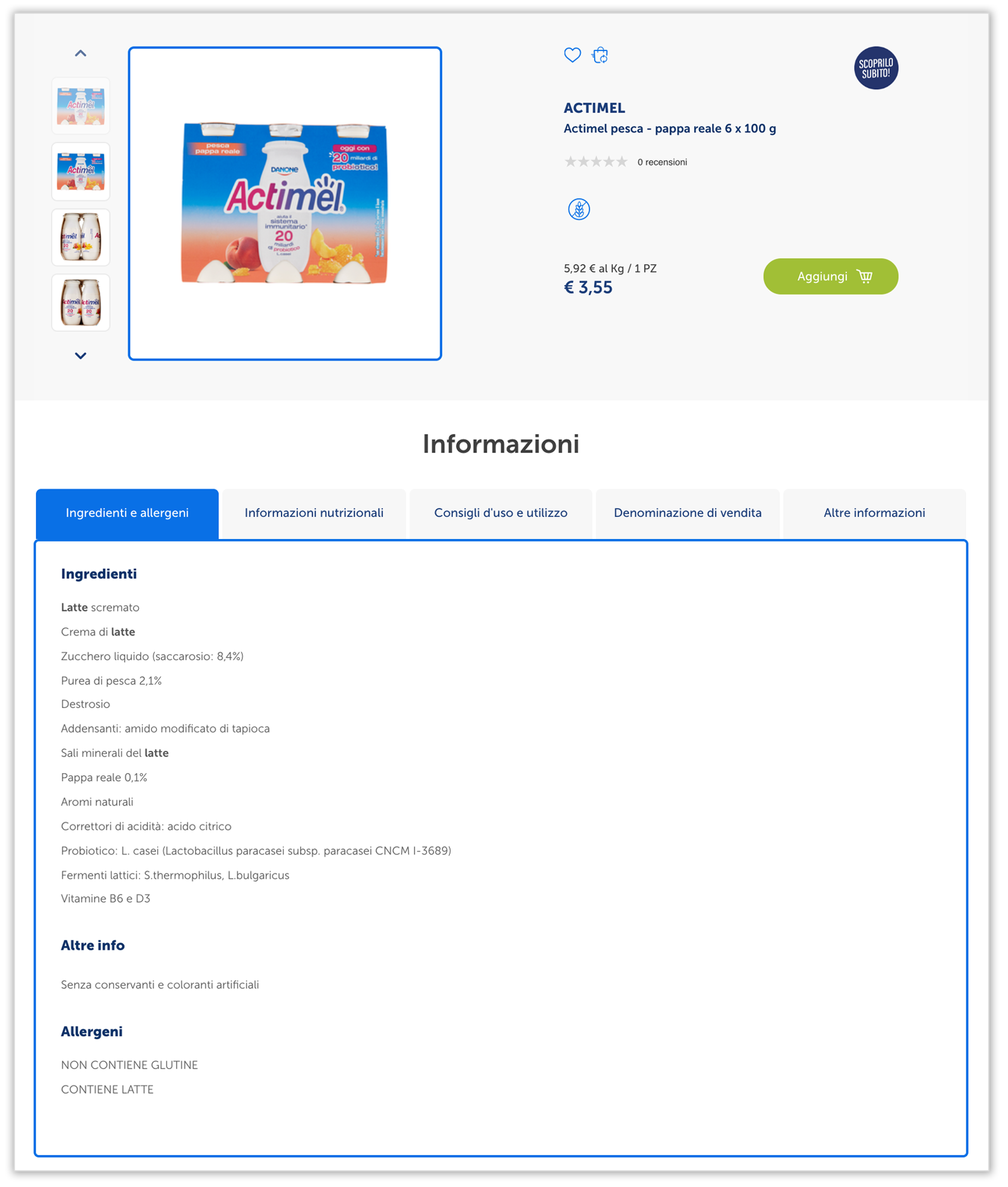 These practices have been tested abroad for some time, with concrete success stories, but here in Italy we lag behind.
Q: In Italy we are witnessing a huge fragmentation of large distribution, which also reflects on the online market. The success of British company Tesco is often mentioned. In your opinion, what is it that determine a successful collaboration between food brand and retailer?
A: We have to set a common goal, which is to sell the product on the channel. If sales grow, then inevitably the channel will grow too. And digital is precisely the channel where this approach can be tested, strengthening the relationship between supplier and customer.
The success of the groceries retailer Tesco has surely shown how successful this model is. I think distributors should choose the leading brands in each category - as we are in the ultra-fresh category - and start a partnership in which the brand also contributes to the layout of the digital shelf.
This is not a simple relationship, considering that large distribution chains are often not as digitally structured as companies, and it's really difficult to find the right contact person to deal with.
In fact, the current relationship is commercial in nature, it involves commercial roles and salespersons, but for this task it's the digital "souls" of the two companies that should be interacting.