During your market research, have you ever come across different consumers who could be interested in your products but, as soon as you go to look at the sales-related data, you realize that there is a potential gap? That is to say that the difference between the potential demand and the actual demand is really huge? How is this possible?
How can I turn my communication ideas, which seem to be winning on paper, into advertising campaigns with a real response?
In a scenario where the user's customer journey has become increasingly fragmented and multi-device, it is becoming extremely important to adopt a targeted marketing approach. This concept implies targeting the audience to meet the specific needs of every single situation with almost surgical precision.
"Activate" Data in order to make them useful for your business

However, to set up targeted advertising campaigns, you need to collect as much data as possible on your audience. This is because, without information, the approach is still general. Gartner confirms this too: there is a correlation between data analysis and a greater ability to create value in the business side of things that should absolutely be taken advantage of.
Modern marketing is heading in this direction: according to a study published by The Economist, 86% of marketing managers see 2020 as the date by which they will have total control over the user experience through data. It represents the data-driven revolution.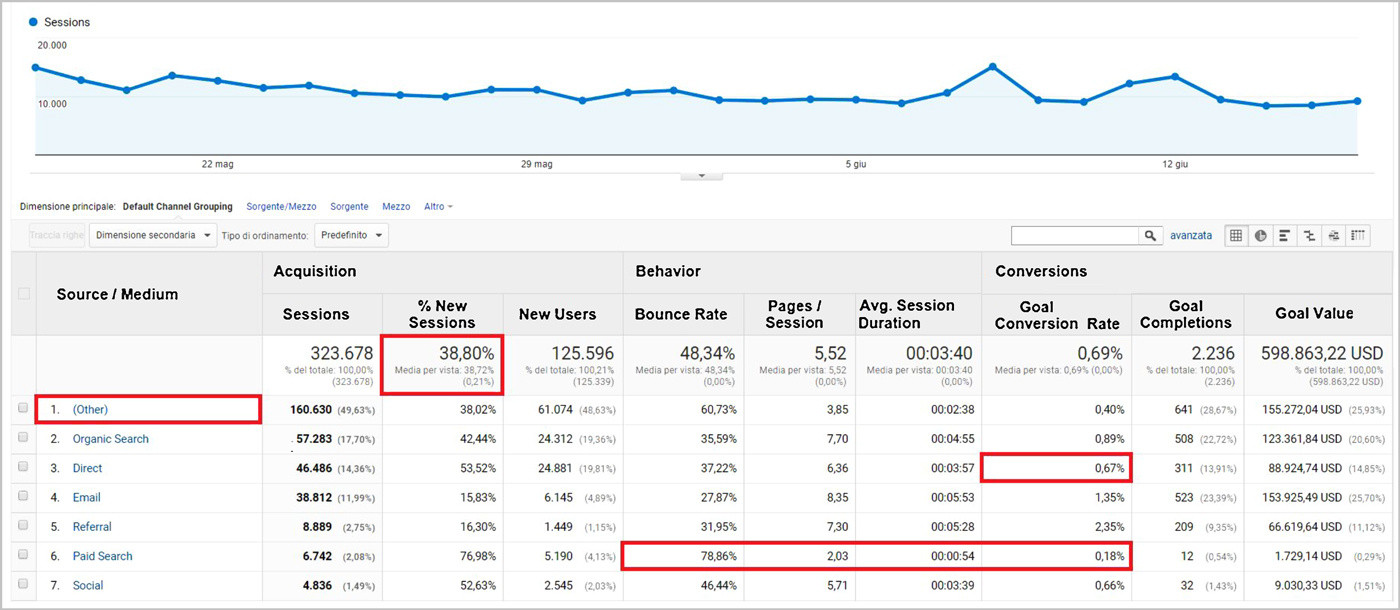 Can you see this dashboard provided by Queryo, an agency specialized in the integrated management of web marketing? This highlights the way in which the percentage of new sessions, or rather, sessions that were initiated in that period by new users is really very low. This demonstrates the difficulty the company has in carrying out prospecting activities.
How often have you heard someone say, "I can't acquire new customers"? But do you know why that is? It is because it is becoming increasingly important to look at the analyses that can provide you with data. In the above-mentioned dashboard, you can see that the e-commerce conversion rate is very poor, and the bounce rate is very high. But don't despair; behind this negative information lie opportunities for improvement.
Instead, in other cases, a data-driven analysis could allow us to reveal gaps on a seasonal level that should be taken advantage of. These could be gaps where the offer in terms of impressions is very high, but participation at the auction for purchasing ads is low. These represent ideal situations where leads can be nurtured, and remarketing lists can be fleshed out at one-cent CPCs.
In this case, the metric to be taken into account is the Customer Lifetime Value (CLV). It should be extended to studies with broader intervals that go beyond quarters (3-5 years): there are businesses like the jewelry one where customers purchase only once a year and at a given moment in their lives, meaning that they may become recurring purchases for:
Festive periods
Events
Periodic maintenance
Updates
Specific dates: birthdays, anniversaries, recurrences of various kinds, etc.
These dates could give us ideas (let's not forget that we must have a complete and up-to-date CRM system!) to set up specific advertising campaigns that go straight to the heart of the chosen target.
Is your E-Commerce website Data-Driven? Find out!
Besides the traditional KPIs (sessions, conversion rate, bounce rate), I would also recommend adopting other metrics in the assessment of your e-commerce website:
Acquisition costs for new customers
Customer Lifetime Value (CLV)
Average receipt
Repurchase rate
Decreased churn rate
CPC, CPV, CPM in prospecting
For example, observing the repurchase rate and churn rate (abandonment rate) could help you understand what the reasons are for a customer leaving your e-commerce website. Is there something they don't like? What can you do to improve their user experience?
After all, we are not just talking about prospecting, but also about retaining the customer: an operation that is, among other things, more advantageous given that several studies show lower costs for the second option (indeed, it is said that it costs ten times less).
Omnichanneling for continuity in the company-customer relationship

In the purchase experience, the customer requires consistency across the different touchpoints. This is why, in order to guarantee a holistic and integrated experience, a data-driven strategy needs to be adopted throughout the relationship process with the customer, from communication to the sale and after-sales service.
To have as complete an analysis as possible, an assessment for each channel is recommended with a single overall model. A single channel cannot be left with the sole responsibility for conversion.
Facebook, for example, is a channel that is particularly suited to strong prospecting. The attribution model could, for example, be the "first point of contact". So, if you want to have as complete an overview as possible, you should measure each channel according to the attribution model that is specific to it, for example: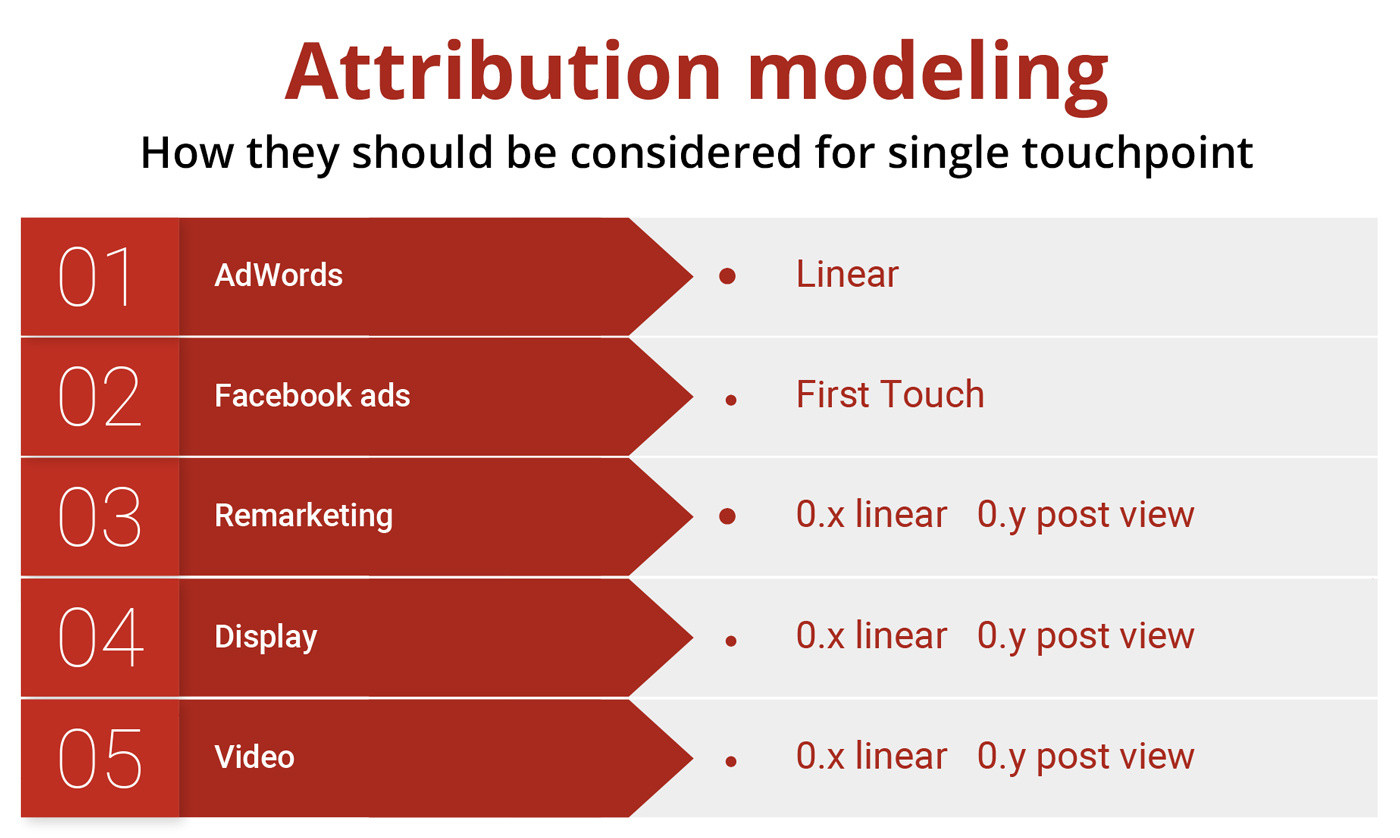 In this way, thanks to a data-driven approach, you can understand which micro-areas for intervention could allow for an improvement in results based on the data in your possession.