The Editorial Staff
Content Intelligence Network
Published on August 27, 2019
In Italy, the low penetration of e-commerce is more due to the scarcity of supply than to a low demand by consumers. However, according to the report "Future opportunities in FMCG e-commerce" by Nielsen, there is one sector, e-grocery, where sales are growing four times faster than offline sales.
But in an online context where marketplaces rule thanks to their virtually unlimited assortment, the importance of differentiation emerges more and more: the product alone is no longer enough to win the consumer's heart, we also need to explain why it is better than other products, and to simplify the increasingly bulimic user navigation with guided recommendations.
In all this, content plays a fundamental role. First, we need to distinguish between the two types of product-related content:
product-specific content (data sheets, instructions, SKU etc.), usually identifying the product in catalogs and in the final purchase process
use-of-the-product content (brochures, use cases, expert reviews, images and videos showing it in a daily context, etc.), which showcases the product, its functionality and its benefits.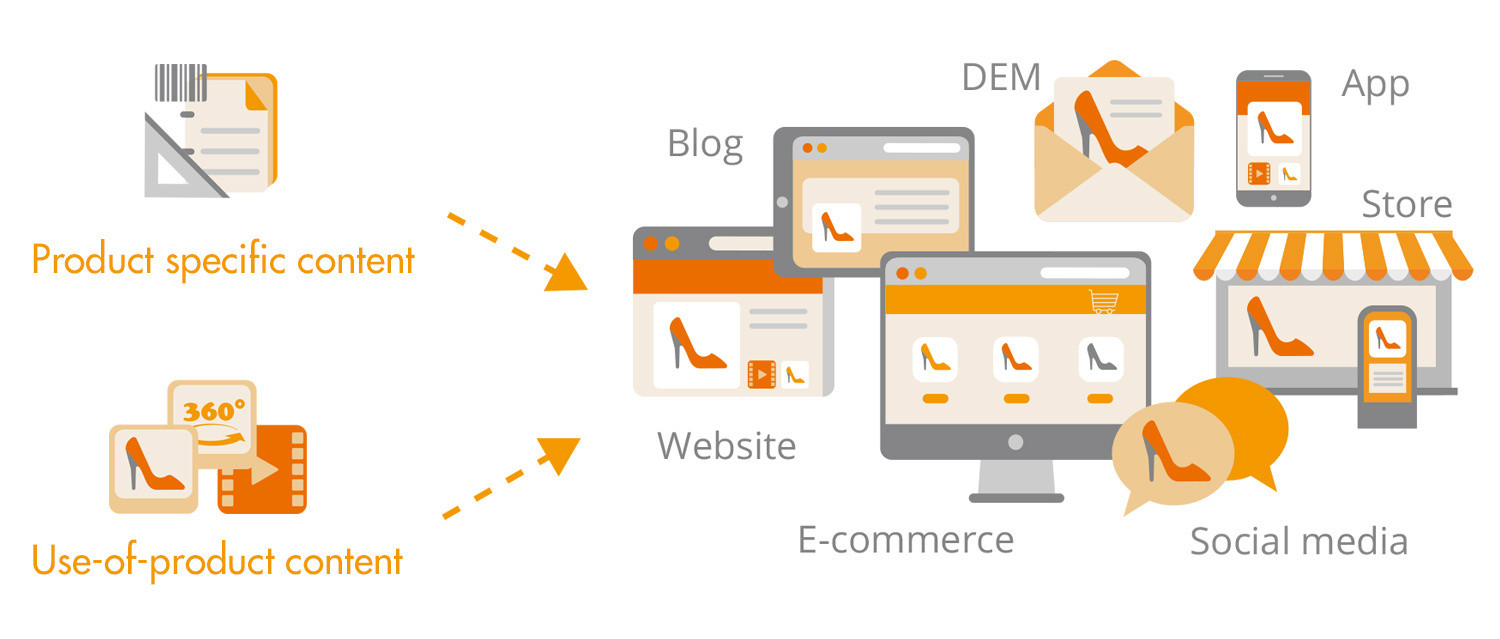 A complete shopping experience cannot do without them both, especially because users, in the lack of the information that make a product concrete in their eyes, can leave the platform to look for what they want elsewhere.
Someone said, "Product is the new media". That's true, product content has to meet consumers' specific needs to motivate them to buy.
Why does retail need to become omnichannel?
But let's not forget that the consumer journey is made up of different "tiles", which pass through different touchpoints. That's why we need to integrate them and build an organized system that can serve online channels without neglecting those consumers who are fond of the in-store physical shopping experience.
More and more large-scale retailers are indeed offering new services to their customers, such as the delivery of their shopping at home or click-and-collect, which require an omnichannel effort of integration between online and offline.
This is the second step, of course, for the most mature players. Some consumer realities still need to open an online sales channel. The question at this point is: how should product content be managed so that the e-commerce can offer all the information consumers need to proceed to the bottom of the funnel?
What you need to do
Centrally manage product content
The first step is to centralize all product content, both marketing and technical content, on a single platform. Information is often scattered across several systems and data sheets, and even the most structured companies that rely on a PIM (piece of software that manages technical information to create product sheets), have a hard time retrieving them together.
This problem does not arise in a content-centric system like THRON, which can be integrated with any PIM, because Artificial Intelligence classifies product assets according to the brand's specific taxonomy, using product categories and product characteristics as tags.
This allows to find, when necessary, both the technical information and the multimedia files, regrouped under a single name, that of the tag that describes them. With product content grouped and organized in this way, it becomes easy to ensure consistency on any channel in which they are distributed (e-commerce, printed catalogs, websites, ERPs, etc.) and share them with other collaborator (retailers, partners, etc.) in the stages prior to publication.
Customize the shopping experience
As we said before, product content scattered across multiple systems makes it difficult to collect information about the users, since the data has to be standardized.
AI classification, on the contrary, allows a better profiling of users because the tags are associated with the profiles of those who have viewed the content. In this way, you can discover more about what product and what characteristics they prefer. And which are the piece of content that convert the most.
Instead of getting lost in the hypertrophy of products and content of the Net, your user can be guided by the website's recommendation engines, that are powered by data collected in real time, and thus suggest content and products your user is really interested in.
Grateful to a brand that immediately shows them what they really want, making them waste as little time as possible with a guided navigation, the consumers will be more inclined to fill their virtual cart.