Published on August 13, 2018
CRM has become crucial for any business. It has evolved through three stages to the point of taking back ownership of the original meaning of its acronym: customer relationship management.
Let's look at the "three eras" in depth – as defined by Joseph Ballard in his article – and find out what we should be expecting in the future.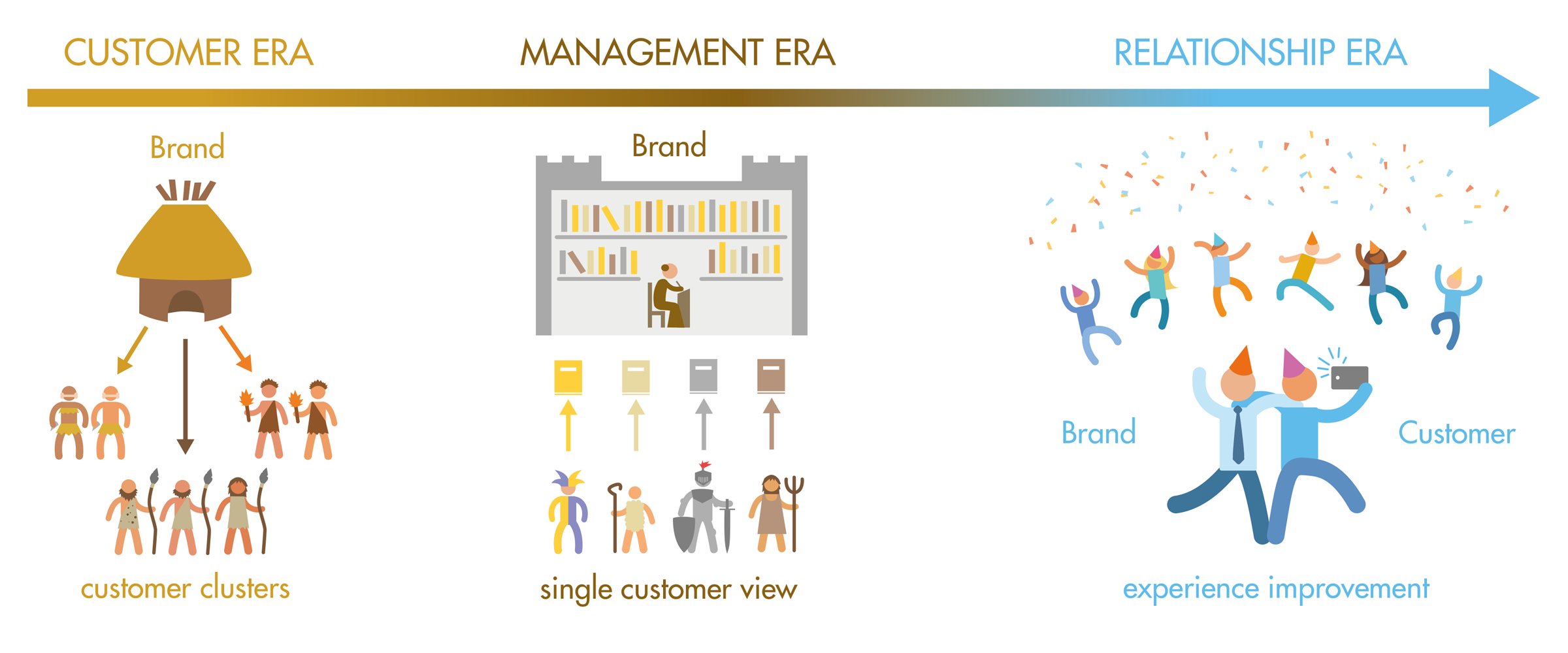 The "Customer" Era
This is not to be confused with what Capaccioni (KPMG) defines as the "Age of the Customer": it would take another 30 years before arriving there.
Rather, here, reference is made to the period between the 1980s and 1990s, when customers stopped being an abstract entity and a collective name, and started being thought of as individuals belonging to specific segments.
It therefore became possible to identify common trends in a particular group, altering products and promotions based on that segment's demographic data.


The "Management" Era
On this basis, the second "management" phase was developed, which featured "data" as its central element.
Indeed, from the 1990s to the first decade of the 21st century, data analysis methods became ever more sophisticated, allowing for an increase in the granularity of the information collected. Thanks to an awareness of customer interests and tastes, offers and messages began to get personalized.
The CRM systems were filled with sensitive data. However, this huge potential was used to optimize earnings, without worrying too much about the customers themselves. It couldn't last: as a result, customers became increasingly aware and, on a European level, the GDPR was introduced to stem misuse of data.


The "Relationship" Era
In this way, we arrive at the present day, where the customer experience is center stage. Sure enough, due to the excessive use of data for business purposes during the previous era, the customer has become wise… and elusive. Brands have had to understand that relying on individual sales is no longer enough. Ethics is getting the better of business, which is evolving from "ownership-oriented" products and services (one-off sales) to subscription-based systems. These imply knowing how to build and manage a long-term relationship with their customers.
Customers do not want to feel tied down but are happy to remain tied to brands that treat them like people, and not just as an "opportunity to make money".
How to Prepare for the Future
It is certainly not time to throw away the CRM systems that we bought in recent years. However, the logics and strategies that underly this tool must be reconsidered from a brand-person relationship point of view.
CRM systems are now needed to support and improve the experience chosen by the customer, and not to impose on them the one chosen by the brand. CRM systems must, therefore, become relationship-driven.
In the present era – and increasingly so in the future – the most appreciated brands will be those that manage to have a positive impact on people's lives. In order to do so, they must:
find out what users want, depending on the web pages and the online brand materials that they view and download.
invest in products and experiences that people genuinely want. By enriching their CRM systems with information on customer interests, brands can significantly enhance their ability to personalize experiences.