Confusion reigns supreme when it comes to digital transformation.
Indeed, we're not just talking about the simple adoption of new technologies. It is pointless looking for futuristic solutions when the knowledge of the needs to be satisfied is lacking at the base.
It seems a bit like the anecdote of writing in space: while NASA spent billions on making a ballpoint pen with a pressurized ink cartridge due to the lack of gravity, the Russians used pencils.
The concept that we're trying to get across is that technology must be part of a broader, let's call it incremental, vision of the future of business. Referring to communications, it is as though it were a power amplifier.
But if a brand doesn't have the faintest idea of how to communicate with its objectives in a coherent and functional way, the danger is that these tools will just make you spend lots of money. A journey that involves the tools AS WELL is needed, rather than one that JUST involves the tools.
In actual fact, the real heart of digital transformation is the customer experience. For Mauro Lupi, Strategy Director at DigitalBreak, a digital transformation project cannot be developed without first having mapped the customer journey. Indeed, different relationship moments between people and companies need to be identified. And it seems as though many organizations are failing in this; only 25% of them do it.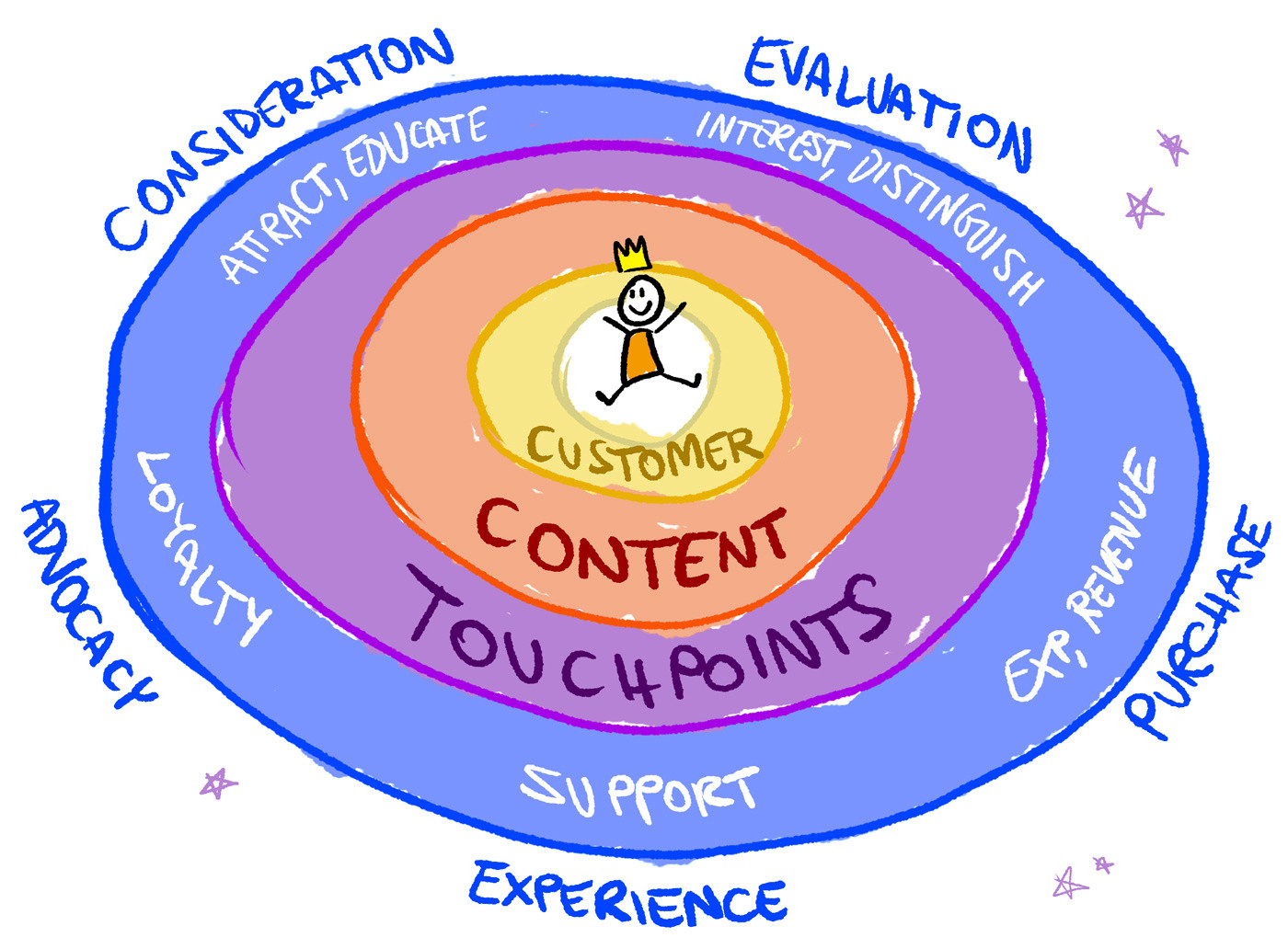 Consumers should be intercepted at every stage along their customer journey (Consideration, Evaluation, Purchase, Experience, Advocacy) with content that responds to their varying needs (information, service, entertainment, etc.). The content marketing strategy therefore becomes functional for business objectives from a multichannel and multiformat point of view.
Based on these premises, DigitalBreak has devised a model for the creation of a content marketing strategy called "Content in the Context of the Journey" (click here for more information). After the initial assessment involving the mapping of touchpoints and related content, it succeeds in optimizing the workflows concerning production, publication and performance analysis.

Only once we have clear ideas can we move on to the tools, the "last pillar" of the CCJ model. As far as we are concerned, there is a content management platform that lends itself well to this model: we're talking about the Intelligent DAM (Digital Asset Management).
Through machine learning features, its semantic engines provide company content with a metadata structure that identifies it on the basis of its topics. "Rationalized" in this way, the content is organized in a centralized hub from which its entire life cycle can be controlled with shared workflows.
The metadata then go on to populate the profiles of users who have taken advantage of these assets. It is therefore possible to feed marketing automation systems data that is always up-to-date regarding user interests.
Let's find out more about this topic with Mauro Lupi.
Q: Why can marketing automation systems represent a valid support in managing a personalized relationship with the user across all points of contact?
A: The underlying consideration is that company relationships with customers have become much more complex than they were in the past. Relationship flows with companies are different from consumer to consumer. This is the case both in terms of the timing and the way in which the multiple points of contact are used, and with regard to the different types of content that should be distributed at the various stages along the customer journey.
Marketing automation platforms come to the aid of companies that want to place their customers or prospects at the center of attention. This is because they are able to simplify and organize the multichannel relationship with the reference public efficiently and productively.
If anything, my experience with these platforms has taught me not get carried away with the great flexibility and power of the tool, developing very sophisticated automation flows. What we have understood in these last 3-4 years of projects is that it is better to start out from workflows that are perhaps simpler but that meet priority needs or have an immediate financial impact. This may be the recovery of abandoned carts for an e-commerce website or the improvement of opening rates and clicks for emails.
Then, as the platform provides us with behavioral insights, more sophisticated flows can be added that consider multiple, and even physical, channels.
Q: In order to successfully implement marketing automation tools, what do you think the prerequisites for a company should be?
A: First of all, without a doubt, a "customer-centric" approach is required throughout the company. Even if we are talking about marketing automation, these tools actually intervene at all stages of the relationship with the consumer, including the support and loyalty stages.
This means that customer centricity must be a strategy for all the departments within an organization. It may seem obvious but, still, many companies are structuring their market approach in a rather self-referential way. Here, the "we" triumphs and relationship models are all oriented towards company objectives rather than those of the stakeholders.
Putting the customer at the center of attention means being aware of their needs and behaviors (and not just the demographic characteristics that they are normally classified with). Here, the need emerges to adequately map key customer profiles (personas) and the relevant customer journeys. This is done by carrying out surveys, qualitative analyses and collaborative workshops that are able to provide a reliable snapshot of the behaviors and interests of the recipients. Often, these also give us innovative prompts and ideas.
The other crucial element in order to feed a marketing automation project is represented by content. The tool is able to distribute personalized information to individual recipients based on their past behavior. But, of course, this information must first have been designed, planned, created and adapted to the different distribution channels.
Therefore, a good marketing automation project cannot exclude a suitable content strategy, including the verification of operational processes. The good news is that, often, companies already have a great deal of material in-house that they have not valued sufficiently from a digital point of view. This may be because the company's departments don't share the content they produce or because they are focused exclusively on promotional material, neglecting other more useful and interesting content that has perhaps already been created for internal use.
The modern platforms for marketing automation and the recovery and analysis of user data are an essential component in relating to consumers. However, to unleash their full potential, they need an analytical awareness of recipient behaviors and needs, as well as a content strategy to sufficiently feed points of contact.