Published on May 14, 2018
The answer is yes.
Content Intelligence is the result of a union between two already winning elements in themselves:
Artificial Intelligence, which is asserting itself in our lives, from many points of view.
Brand content, whose content marketing has become a competitive advantage.
Artificial Intelligence and Content: A Winning Combination
It is not yet as famous as the elements that make it up, but it is gradually gaining ground, inserting itself into all company departments. You will certainly already have heard Content Intelligence spoken about if you work at, or have, a digital agency or company – or if you are at a traditional company that is right in the middle of its digital transformation. Perhaps you are considering it as a valid support for your offices.
It is easy to say that Content Intelligence will save brands from chaos and will improve the efficiency of marketing departments, but you will want to know where its potential comes from. Indeed, we certainly cannot say that it is an old friend and you will want to understand how much you can count on this new trend, and whether to begin investing time and resources in it.
So, let's start out from the formula and break it down into its supporting elements.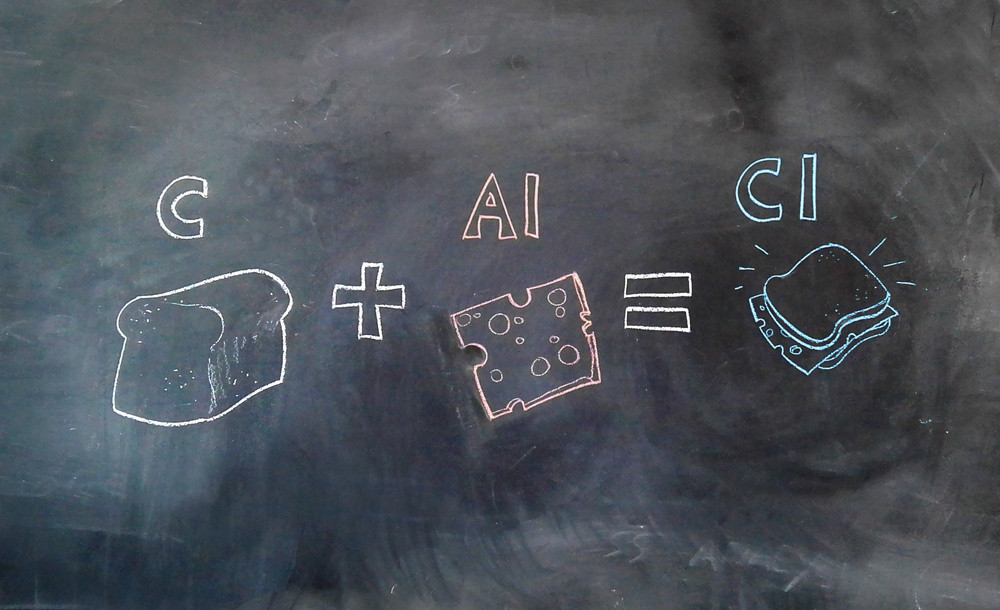 CI is the combination of two worlds, that of content and that of Artificial Intelligence, which, by integrating, constitute a powerful and continuously evolving tool.
Content, the element at the base of company marketing strategies
Content is fundamental for companies. Brands have become producers of original content: We're talking about articles, images and videos that have as their aim to supply all the relevant information to the user, so that they can inform themselves about a topic, product or service, and are independent in choosing whether and whom to buy from. This is content marketing. And, by now, it has been ascertained that it is a much more effective strategy than any traditional form of advertising. Indeed, brands that grow the most and have the best performances turn out to be precisely those that manage to center their marketing strategy around content that deals with what interests users (Forrester). In fact, in this way, people feel involved and they move towards the brand spontaneously.
To all this, content that does not have anything to do directly with marketing is added. Such content, however, must be managed by the company: invoices, company presentations, documentation, etc. It is all content that
must be organized;
must be controlled;
the brand can use to its own advantage.


AI, the heart of Content Intelligence
On the other hand, Artificial Intelligence is permeating every area of our lives, and we can only expect it to do so more and more. In a world in which interacting with our mobile phone's digital assistants is on the agenda, Artificial Intelligence is perceived as a constituent element of everyday life. It is a technology based on many products and services that we really need, both in our private and working lives. Among other things, it has been seen that Artificial Intelligence can bring benefits also in the field of "corporate content", which, as we mentioned earlier, is each brand's daily bread. And this is where the relationship between content and Artificial Intelligence is created.


Content + Artificial Intelligence = CI
If you have followed me up until now, you will agree with me that it bodes well. From two fundamental pillars like content and AI, we couldn't get anything but a great product.
Content Intelligence has the intrinsic ability to permeate all areas of business, since
Content forms the base of a company's activities.
Artificial Intelligence can be applied to content: It makes it manageable and maximizes its value.
Therefore, all those corporate areas that use content can benefit from it.
CI has started by improving organizational activities for corporate content, thanks to AI's enormous potential for the semantic analysis of a large amount of content.
As well as this, however, it also manages to strengthen marketing activities through the analysis of user interests. I am referring, for example, to the possibility of creating the best possible editorial plan for your public, or of sending highly personalized emails.
But it hasn't stopped here: Content Intelligence has left our offices, going to improve the experiences of the user online and offline.
Now, it isn't just easier to be an editor and write good content. Thanks to Content Intelligence, it is also nicer to be the recipient of marketing communications that
understand our desires;
meet our expectations.
So, Content Intelligence has just begun its journey and, yes, it will continue to spread. This is not just because content and the need to manage it will increase, but also because people like its effects. Indeed, it is asserting itself as a tool to create genuinely engaging customer experiences, due to the fact that it manages to collect data on people's interests and respond to them with proposals containing suitable content.
But, I haven't finished. This has been an introduction: the history and origin of Content Intelligence that confirm the way in which it is a complete discipline, a cohesive whole, that is something bigger than the simple sum of the parts it is made up of.
Now it's your turn: choose the area you want to improve and Content Intelligence will help you!